News Archive
Explore our archive of old news articles, click on one of the years below to see all the articles from that year.
Who are Cambuslang Harriers?
Cambuslang Harriers, since its formation in 1948, has become one of the premier cross country and road running clubs across all age groups in Scotland. We also have a very talented girls and ladies group who now regularly win major team honours.


CAMBUSLANG HARRIERS CONTEST MULTI EVENTS IN SCOTLAND, SPAIN AND FRANCE
The Scottish Short Course Championships returned to the now disused Lanark Race Course which staged the first Scottish Cross Country Championships as far back as 1886. The race distance for the under 15 runners was 2K, 3K for the under 17 athletes and 4K for the women and men. Unfortunately the competitors had to contend with heavy rain and near gale conditions. Nevertheless, there was a good turnout of talented athletes from all over Scotland and also of spectators for whom there was the added attraction of seeing 3 Olympians in action namely Laura Muir, Andrew Butchart and Jake Wightman.
Olivia McNicol and Lucy McGrandle were first to run and both ran strongly in the conditions to finish 32nd and 62nd out of 100 finishers. Their male age counterparts also acquitted themselves well and Sam McCarthy in 26th place led home Chris Black and Lewis Cook to secure 8th team position from 14 complete teams. In the under 17 ladies event Millie Nicholl came close to achieving the bronze medal but eventually came home 6th and with support from Abbie McClue and Eva Ritchie finished 5th team. Eilidh Kennedy with a strong finish was only one place behind Eva. The counting trio for the under 17 males packed even closer together with Lewis Roddis, Jonathan Dow and Finlay Robb occupying 28th, 31st and 32nd positions to also take 5th team. Cameron Finlayson, Dean Edmunds and Jonathan O'Kane, relative newcomers to the sport, were able to gain further experience.
There was a buzz of anticipation and excitement when Laura Muir, the Olympic 1500M silver medallist lined up with 220 other starters in the ladies 4K. As expected, she ran a controlled race to win comfortably from Morag Miller and Eloise Walker who shared the same time. Eve MacKinnon, the former under 17 Scottish Cross Country bronze medalist, put in her best performance in recent years to cross the line in 28th place with Lesley Blackwood in her first season of running not far behind in 51st spot. Experienced triathlete Kirsty O'Brien and another newcomer Catriona Bain anchored the team into 13th place from 23 finishing teams. Lesley McCardle who had journeyed up from London where she is now working was the next Cambuslang athlete home ahead of Jacqueline McLew and Rachel Wardrope.
Olympian and Scottish 3000M and 5000M record holder Andrew Butchart of Central AC dominated proceedings to breast the tape ahead of his club mate Jamie Crowe and Shettleston Harriers Lachlan Oates. With Central being team winner certainties the competition for the silver and bronze medals was potentially fierce with Cambuslang being in the mix along with Edinburgh and Glasgow Universities, Shettleston, Giffnock North, Kilbarchan and Fife AC. The fight for these 2 medals could not have been closer with Edinburgh University pipping Cambuslang by 1 point only. Cameron Smith (13th), Fraser Stewart (22nd), Mike Christoforou (23rd) and Chris McLew (29th) all finished within 23 seconds of one another. Unfortunately Jamie MacKinnon, the Scottish 1500M bronze medallist, who was a mere 3 seconds behind Chris narrowly missed out on a team medal. Cameron who had travelled up from Nottingham was pleased to have held off the Scottish 1500M record holder Jake Wightman in the dash to the line. Gordon Robertson continued his good sequence of winning Scottish Masters M40 medals when finishing runner up in his category with the improving under 20 Zak Povey not too far behind. Club captain Ritchie Carr was sandwiched between 2 other under 20 athletes, Ruairidh MacGregor and Theo Carter. Ritchie did well to participate given that he was bitten by a dog during his pre race warm up. Thereafter, a succession of master runners crossed the line in the following order, Chris Upson who was announced post race as the recipient of the bronze M50 individual award, George Pettit, Iain Nicholl, Mick O'Hagan, Kenny Finlayson and Des Dickson. Chris Smith broke the flow of masters before the next flurry appeared – Scott Hunter, David Scott, fellow coaches Simon Gold and Iain Crawford, Eddie Carr, Stephen Leonard and Chris Paton. Club treasurer Dave Thom was unfortunate to pull out just after half way when in the M60 bronze position. A sudden sharp foot pain meant there was no way he could continue. As ever the club is appreciative of the behind the scene efforts of our coaches, officials, supporters and parents.
Tinto Hill could just be seen from the Lanark Race Course rising above the mist. If conditions were bad enough at the ground level Lanark Course the driving wind and rain on the 711m or 2,333ft hill were much worse. Kieran Cooper and dad Richard showed good strength to finish 5th and 2nd M50 respectively. On the same day Jennifer Campbell battled away bravely to finish 4th lady in a time of 4.59.27 in the gruelling 33 mile Glen Ogle Trail Race in Perthshire. Having increased her weekly mileage during lockdown she was keen to try an ultra race. On the cross country front Colin Donnelly returned to competition after a lengthy period of injury to participate in the Borders Cross Country League held on his local course at Hawick. In many ways this undulating course is akin to hill running which suited the former Scottish, UK, European and World Hill Running Medallist admirably. Therefore, not surprisingly he was the first M60 and 3rd master overall.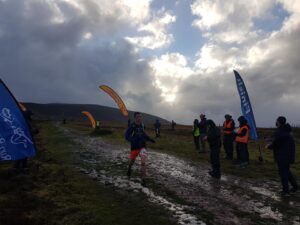 The harriers were also represented at road races in nearby Strathaven and in more distant locations such as Barcelona and Lille. At Strathaven Ian Hodge was 3rd clocking 77.19 for the half marathon distance with George Pettit (78.00) taking 5th place and the masters prize. Iain Crawford, who like George had competed the previous day at Lanark, recorded a time of 1.48.35. Iain McDonald managed to obtain a late entry to the Barcelona Marathon after his original plan to participate in the New York Marathon was thwarted and posted the excellent time of 2.45.58 just over a minute outside his personal best. Moira Stewart ran a lifetime best of 32.44 for 10K at Lille thus taking 65 seconds off her previous best and putting her in 3rd and 9th place respectively in the Scottish and UK rankings for 2021.
David Cooney
Join Cambuslang Harriers
Interested in joining one of Scotland's premier road and cross country running clubs as a member or a volunteer? We cater for runners of all abilities and offer regular training sessions based from our clubhouse in Cambuslang, we also have regular training on the track at the John Wright Sport Centre in East Kilbride, why not come along and join us?


All Content Copyright © 2007-2023, Cambuslang Harriers I Site design by No Lesser Panda