News Archive
Explore our archive of old news articles, click on one of the years below to see all the articles from that year.
Who are Cambuslang Harriers?
Cambuslang Harriers, since its formation in 1948, has become one of the premier cross country and road running clubs across all age groups in Scotland. We also have a very talented girls and ladies group who now regularly win major team honours.


A REWARDING DAY OUT AT BALLOCH FOR MEMBERS OF CAMBUSLANG HARRIERS
Members of Cambuslang Harriers were keen to participate in the West District Cross Country Championships which was cancelled last year due to the Covid lockdown. The competition for all age groups from under 13 to masters was being held at the scenic but testing Balloch Country Park course. Conditions were wet just as in 2019 which meant that cornering at speed was challenging. However, that's part and parcel of cross country running. Cambuslang Harriers came away with 2 gold, one silver and 2 bronze individual medals along with 2 team gold and one bronze team medal. There was an added bonus of 5 runners gaining automatic selection to represent the West District in the forthcoming Scottish Inter Counties with another 7 staking a strong claim for the remaining discretionary places.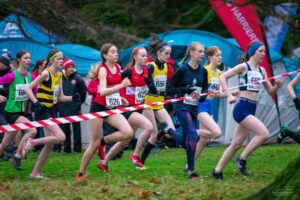 The club's two under 13 athletes Erin Kearney and Megan O'Brien can be pleased with their efforts while their under 13 male counterparts, Jamie McCarthy, Euan Reid and Alistair McLachlan, combined well to finish 5th team. All 5 are in their first year in the sport and the experience gained from this event will stand them in good stead. U15 runners Olivia McNicol and Lucy McGrandle put in strong performances in their age group as did Sam McCarthy, Chris Black and Lewis Cook who were 4th team in the U15 boys' competition. Millie Nicholl ran a well judged race to come through strongly to take the individual bronze U17 ladies medal and with good support from Abbie McLue and Eilidh Kennedy a team bronze medal was secured. Millie's individual bronze was confirmation of her recent good form. The U17 men's team consisting of Lewis Roddis, Jonathan Dow and Finlay Robb just missed out on team bronze. Fearghus MacGregor and Dean Edmunds provided the back up in this age group. It remains to be seen whether Jamie, Olivia, Sam, Abbie, Lewis and Jonathan who all finished inside the first 15 in their age category will be given a discretionary place.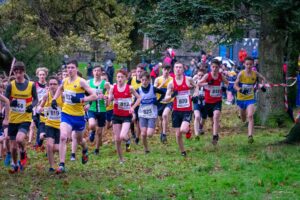 Rachel Wardrope was the sole Cambuslang competitor in the U20 ladies' event and she stuck to her task well on this difficult course. The club had a clean sweep of the individual medals in the men's U20 race thanks to Chris McLew, Zak Povey and Ruairidh MacGregor who not surprisingly lifted the team award. Cambuslang Harriers top the Teams Medal Table for U20 men having amassed 13 gold, 4 silver and 1 bronze in the history of this competition. Theo Carter offered valuable support.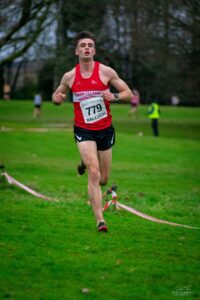 The women's 8.5K race saw the senior ladies competing alongside the master ladies. Eve MacKinnon showed welcome signs of returning to her earlier form as an U17 and U20 athlete by coming home in 10th position to seal an automatic place in the West District team while newcomer Catriona Bain continues to progress. There were creditable performances too from W45 Jennifer Campbell and from Erica Christie, the leading W65 runner. With 4 to count in the team competition the ladies finished in 10th spot.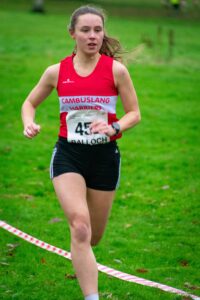 The big question before the final event of the day was whether Cambuslang could win a 4th consecutive senior men's title? As the race unfolded it was clear that it was a 3 way contest between Cambuslang, Shettleston and Inverclyde. In the end Cambuslang prevailed over Shettleston by 7 points. Fraser Stuart in 3rd place led home Mike Christoforou (4th), Craig Jardine (9th), Iain MacCorquodale (18th), Jamie MacKinnon (20th) and Stevie Wylie (36th). Achieving automatic places in the West District Team was a further bonus for Fraser, Mike and Craig. It was a remarkable run by Stevie who also picked up the M50 individual award thus adding to his previous titles as a senior and as a M40. He has also featured in 4 of the club's team gold successes with his first medal being won 27 years ago. Likewise, former club captain Iain MacCorquodale has a proud competitive record in this championship event having claimed individual silver in season 2002 – 03, in addition to his 9 team gold medals. Fellow M35 runners Richie Carr and Ian Hodge, in his first cross country race, put in strong performances as did M40 athletes Stuart McGeachy and Justin Carter. Cambuslang's masters' team was placed second but unfortunately only 1 team medal was given out in spite of the sizeable number of masters competing. A trio of M50s were next to cross the line – Richard Cooper (4th M50), Chris Upson (1st M55) and Mick O'Hagan (5th M50). M40 Iain Nicholl led home fellow M40 Kenny Finlayson ahead of former M50 victor Paul Thompson who was the leading M65. The remaining 7 members to finish were Phil Burns, M40 David Scott, Chris Campbell, Frank Hurley (3rd M65), M40 Ian McNair, M60 Eddie Carr and M50 club coach Iain Crawford.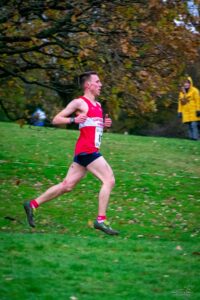 The club's success on the day was very much a team effort not just by the runners but by the members working in the background. The coaches, club officials, volunteers, supporters and parents also play an important role and are due a special mention.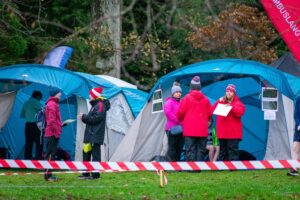 David Cooney
Join Cambuslang Harriers
Interested in joining one of Scotland's premier road and cross country running clubs as a member or a volunteer? We cater for runners of all abilities and offer regular training sessions based from our clubhouse in Cambuslang, we also have regular training on the track at the John Wright Sport Centre in East Kilbride, why not come along and join us?


All Content Copyright © 2007-2023, Cambuslang Harriers I Site design by No Lesser Panda