News Archive
Explore our archive of old news articles, click on one of the years below to see all the articles from that year.
Who are Cambuslang Harriers?
Cambuslang Harriers, since its formation in 1948, has become one of the premier cross country and road running clubs across all age groups in Scotland. We also have a very talented girls and ladies group who now regularly win major team honours.


CAMBUSLANG HARRIERS ARE AGAIN AMONG THE MEDALS AT THE SCOTTISH SHORT CROSS COUNTRY CHAMPIONSHIPS
The Scottish Short Course Cross Country Championships were held this year on a flat and fast course at Lanark with Tinto Hill providing a scenic backdrop. Although the competition was fierce with athletes from all over Scotland taking part Cambuslang Harriers featured among the medals with the under 17 men and M40 master Ben Hukins, M50 master Charlie Thomson and M60 master Paul Thompson all gaining a podium place.
The under 15 girls kicked off the race programme in their 2K event. Shona Carey in her best cross country run to date finished an excellent 8th and with good back up from Niamh Riggins, Peggy-Nan Rodger and Eilidh Kennedy clinched 4th team spot. The 2K under 15 boys event saw Robbie Woods run the race of his life to come home 5th just missing out on an individual medal by a few seconds. Next home for the club was 10th placed Lewis Roddis who also turned in a magnificent performance in his first year in this age group. The 3rd counter, Feargus MacGregor, ensured 5th place for the club in the team competition. Alex Barnett finished close behind with Ross Noble also participating.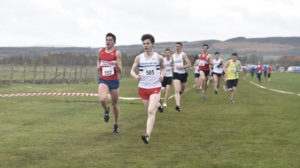 Attention now focussed on the under 17 women and men who were racing over 3K. Susie McLaughlin showed determination to finish 16th in her first year in this age category while Holly Brooks in a welcome return to racing paced herself well and will benefit from the work out. The Cambuslang under 15 male squad fielded 7 members and in a competitive and exciting race Ruairidh MacGregor in 9th position led the fast finishing Christopher McLew and Brodie Aitken to the bronze medals. Michael Black, Kai Newell, Aaron Grew and Jack MacKinnon all finished in close proximity to one another.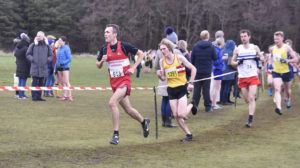 The distance now stepped up to 4K for the under 20, senior and masters women. Master runner Jennifer Reid and under 20 Amy Craig were initially together before Jennifer's endurance and experience saw her pull away from her younger rival. Both athletes placed well in their respective age groups.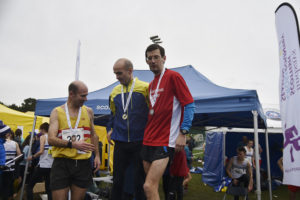 The same male age groups took part in the last race of the day which saw almost 500 competitors on the starting line with the club supplying 22 of them. From the off the pace was fast and furious and continued to be so. Ryan Thomson was the first runner home from the club in a worthy 13th place and with Fraser Stewart 22nd, under 20 Gavin Smith 28th and Stuart Gibson 37th Cambuslang finished 5th team. A succession of red and whites made the top 100 in the following order – under 20 Jamie MacKinnon, silver medallist M40 Ben Hukins, under 20 Drew Pollock, Al Campbell, Ritchie Carr, M40 Kenny Campbell and fellow M40 Jamie Reid. M40 Justin Carter and M50 silver medallist Charlie Thomson were just outside the top 100. Cambuslang athletes continued to cross the line in tandem in the following order of M50 Alick Walkinshaw, M40s John Paul Murphy and Iain Nicholl, M50 Dave Thom , M60 silver medallist Paul Thompson, M50s Des Dickson and Dan O'Connell, Alasdair Murray and M60 Brian Hughes.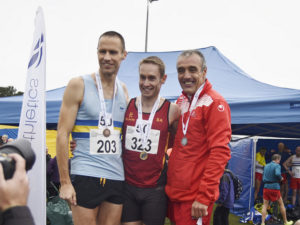 Once again our coaches, members and parents offered their support to our athletes whose endeavours were as usual well captured on camera by Colin Stephen. With Colin about there is no hiding place for our athletes! A final vote of thanks is due to Scottish Athletics in conjunction with Law and District Athletics club for staging the event so well.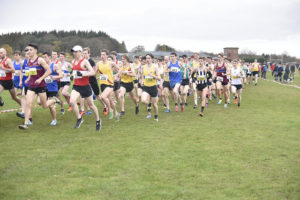 David Cooney / Photos Colin Stephen
Join Cambuslang Harriers
Interested in joining one of Scotland's premier road and cross country running clubs as a member or a volunteer? We cater for runners of all abilities and offer regular training sessions based from our clubhouse in Cambuslang, we also have regular training on the track at the John Wright Sport Centre in East Kilbride, why not come along and join us?


All Content Copyright © 2007-2023, Cambuslang Harriers I Site design by No Lesser Panda