News Archive
Explore our archive of old news articles, click on one of the years below to see all the articles from that year.
Who are Cambuslang Harriers?
Cambuslang Harriers, since its formation in 1948, has become one of the premier cross country and road running clubs across all age groups in Scotland. We also have a very talented girls and ladies group who now regularly win major team honours.


A VARIETY OF AWARDS FOR CAMBUSLANG HARRIERS
Members of Cambuslang Harriers returned to full scale competition at the West District Cross Country Championships which was held on the undulating golf course within Glasgow's Alexandra Park. The event was not held in 2020 due to Covid Restrictions. Several athletes across the age groups were participating in cross country running for the first time having taken up running during lockdown. The wet conditions did not deter the harriers from putting in some very good performances.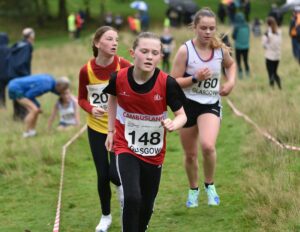 The programme kicked off with the young female relay event in which an under 13, under 15 and under 17 athlete all ran a 3K leg. The A team of Erin Kearney, Lucy McGrandle and Millie Nicholl finished a creditable 18th with the B trio of Elena Bolanos, Olivia McNichol and Eilidh Kennedy not far behind in 23rd spot while the C team of Keira Gallagher, Martha Fleming and her sister Grace completed the course in 41st position. Megan O'Brien, Kirsty Forrest and Mollie Mae Scott also featured in incomplete teams. On an individual basis Millie ran an outstanding lap to record the 2nd fastest time of the day in her age group.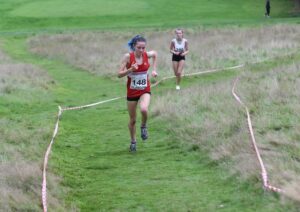 The same format applied to the young males who also finished 3 teams along with having 3 individual runners. The A team of the McCarthy brothers, Jamie and Sam, and Lewis Roddis excelled themselves to take 7th place with Jamie 11th, Sam 9th and Lewis 8th quickest in their respective age groups. The B squad of Alistair McLachlan, Chris Black and Jonathan Dow, 11th fastest U17, combined well in 14th spot with Euan Reid, Jay Gallagher and Fearghus MacGregor in 22nd position. Alex McKirdy, Dylan Howat and Lewis Cook had the opportunity to make their debuts.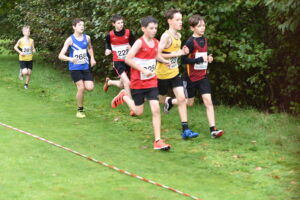 The club fielded an encouraging record number of senior/master ladies in this highly competitive championship event. Strong runs by Lesley Blackwood, Kirsty O'Brien and debutant Catriona Bain saw them finish 15th team while the B and C trios were 30th and 35th respectively thanks to Sarah Ross, Jacqueline McLew, Paula McCabe, Peggy Nan Rodger, Rachel Wardrope and Ana Bradley. Sarah Simpson and Lynn Angely also acquitted themselves well in their incomplete team.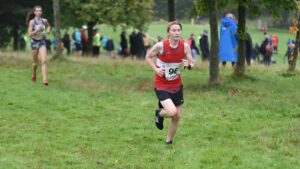 In the final event of the day the U20, senior and masters men provided 8 complete teams. In a tight finish the A quartet of Kevan Harvey, Jamie MacKinnon, Mike Christoforou and Fraser Stewart were pushed back to the bronze medal spot by Giffnock North and Inverclyde AC. Jamie was unfortunate to lose some vital seconds when experiencing a heavy fall on leg 2. However, in spite of a badly gashed knee he battled on gamely to keep Cambuslang in the hunt. U20 athlete Chris McLew dug in well to come home in 4th place behind Kevan to launch the B team's challenge. Former club captain Iain MacCorquodale, Colin Reilly and Craig Jardine maintained the momentum to be first B team in a very creditable 6th place.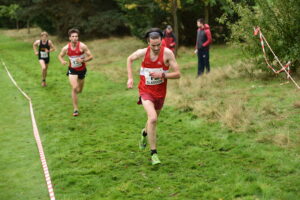 The M40 squad of George Pettit, Justin Carter, Gordon Robertson and Stevie Wylie were 12th overall and convincing winners in their age category ahead of Garscube and Cumbernauld AC. The club also had the satisfaction of fielding the first C team thanks to U20 runners Theo Carter, Michael Black, Zak Povey and senior Ross Stephen. The 4th masters team went to Cambuslang's M50 trio of Mark Gallacher, Mark King and Mick O'Hagan ably supported by M40 Iain Nicholl who displayed good endurance only 6 days after setting a pb in the London Marathon. Ritchie Carr ran a good club captain's race to lead off Chris Smith, coach Simon Gold and Frank McGowan who was competing after a lengthy absence due to a foot injury. Next to finish was the super masters quartet of Chris Upson, Dave Thom, Frank Hurley and Des Dickson while Scott Hunter, Eddie Carr, Peter Ogden and Stephen Leonard brought Cambuslang's role in the proceedings to an end.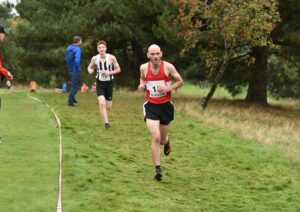 The club was pleased to come away with 2 team medals and to have fielded the largest number of men's teams along with 2 members, Andrew Carey and Keir Crawford, representing Glasgow University. A special thanks is due to our supporters and parents who offered encouragement to our athletes and to all our members who worked in the background to coach our runners, doing all the admin work connected with entries, transporting and erecting the club tents, taking photos on the day and stewarding the event.
Further honours went to Cambuslang Harriers when Fiona Pollock and Pamela Stephen were announced as winners of the Scottish Athletics Volunteer of the Year Award. This award was richly deserved for their continued dedication in looking after our younger athletes, liaising with our local primary and secondary schools, ordering and distributing club clothing and regarding child welfare and protection.
On the same day Alasdair Campbell was competing in the final race of the Scottish Hill Running Championship Series at Dingwall which also incorporated the one-off Scottish Championship Event. Alasdair secured 2nd place in the race which was enough to place him 2nd overall in the Scottish Series and also 2nd in the individual Scottish Championships. His long journey North was certainly worthwhile. Cameron Smith continued his good form down South when finishing 2nd in the opening race of the North Midlands Cross Country League.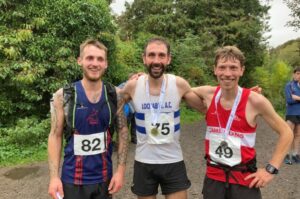 The harriers have also put in some recent excellent performances on the roads. Moira Stewart recorded the very fast time of 70.16 in the Rome to Ostia Half Marathon to take 52 seconds off her personal best. Her time was the fastest ever recorded by a Czech born female athlete but will not count as a national record due to the international guidelines applying to a point to point event. From a Scottish perspective, as Moira is able to represent Cambuslang through her Scottish father Eddie, only Eilish McColgan has run faster this season. M40 Gordon Robertson continued his impressive vein of form when finishing 4th and first in his age group in the Glasgow University 5 Mile Event. Kieran Cooper competing in the colours of St Andrews University took 7th place while Stevie Wylie and Justin Carter were 3rd and 4th in the M40 age category. Richard Cooper and Chris Upson were the first 2 M50 runners followed by Dean McNaught and M50 Mark King. Erica Christie lifted the W60 award. There were also victories in various Parkruns for U17 Jonathan Dow, M50 Mick O'Hagan, M50 Kerry-Liam Wilson, M40 Ben Hukins and Iain McDonald while Paula McAdam finished as a runner up.
David Cooney
Join Cambuslang Harriers
Interested in joining one of Scotland's premier road and cross country running clubs as a member or a volunteer? We cater for runners of all abilities and offer regular training sessions based from our clubhouse in Cambuslang, we also have regular training on the track at the John Wright Sport Centre in East Kilbride, why not come along and join us?


All Content Copyright © 2007-2023, Cambuslang Harriers I Site design by No Lesser Panda