News Archive
Explore our archive of old news articles, click on one of the years below to see all the articles from that year.
Who are Cambuslang Harriers?
Cambuslang Harriers, since its formation in 1948, has become one of the premier cross country and road running clubs across all age groups in Scotland. We also have a very talented girls and ladies group who now regularly win major team honours.


MEMBERS OF CAMBUSLANG HARRIERS HIT THE ROADS
There has been a flurry of road races from the 3K up to the marathon distance in the last 2 weeks and the famous red and white vests have been out in force in Cambuslang, Inverness, Alloa, Cambridge, Callander, Edinburgh and even as far away as Tokyo. Numerous pbs have been achieved by our athletes in addition to Fraser Stewart being crowned the Scottish Half Marathon Champion and Erica Christie being awarded the W60 bronze medal.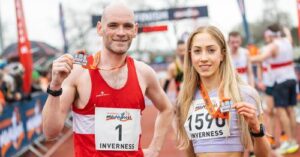 The 15th annual Down by the River 10K and 3K races took place in weather perfect conditions on the out and back course along the Clyde Walkway. The 10K was sponsored this year by a club benefactor who wishes to remain anonymous. From an entry of just over 300 runners 242 started out on the day including the sizeable figure of 46 Cambuslang athletes. Defending champion Fraser Stewart driven on by the challenge from Kilbarchan's Robbie Ferguson smashed his own record to register the excellent time of 30.17 and thus collected an additional bonus prize donated by club member Barnie Gough. Runner up Robbie was also inside the previous course record. 3rd place went to East Sutherland's Finlay Murray who has been doing some training sessions over the winter with Cambuslang athletes. With club captain Richie Carr dipping under 33 minutes in 4th place and Euan Duernberger 5th in a pb of 33.11 the team prize went to the home club. The contest for a podium place in the ladies event was a much closer affair. In the end the verdict went to visiting athlete Elisa Viora from Torino who set a pb of 39.26, 5 seconds ahead of Beth Shearer from the local Newton Road Runners with Shettleston's Kirsty Mann a further 22 seconds adrift. Both Beth and Kirsty also clocked pbs. The Cambuslang trio of debutant Kirsty Wright, leading W40 Kirsty O' Brien and new member Kathryn King packed well in 4th, 5th and 6th positions to seal the team medals for the club's ladies. Both Kirsty Wright and Kathryn were also delighted to set new pbs of 40.12 and 41.10. Kirsty Wright and Kirsty O'Brien were respectively awarded the Jimmy Sands Memorial Shield and the Jim Fitzpatrick Memorial Shield for finishing the first club senior and the first master lady. Both shields are in memory of 2 former members who played a significant part in the club's history.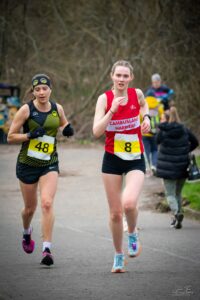 3 other Cambuslang men made the top 10 finishers with the improving Steven Fitzpatrick and Brendan Carey setting pbs in 6th and 8th spots and 9th placed Stevie Wylie taking the M50 prize and also the Jim Fitzpatrick Memorial Shield. The Jimmy Sands Memorial Shield had gone to race winner Fraser. Andrew Anderson with a pb, M50 Justin Carter and debutant Iain Murphy also with a pb broke the 35 minutes barrier while Ian Hodge, new member Chris McCarron with a pb and M50 Mark King were sub 36 minutes performers. Tom Adams who made his debut in this race last year brought his pb down to 36.18 and was followed home by a group of 7 team mates inside 40 minutes – Iain Nicholl, 1st M60 Stan MacKenzie, Gerard Higgins, M40 Gary Lyon, debutants Kevin Farmer and Callum Wright with a pb and Chris Smith also with a pb. M45 David Scott with a time of 40.41 narrowly pipped M40 Chris Campbell who nevertheless had the satisfaction of achieving a pb as did his 3 pursuers Andrew Blain, M40 Stephen Shakespeare and M40 Iain McLachlan. M40 Ian McNair with pb, M55 Dan O'Connell, M50 Alan Anderson with a pb and 1st M70 Frank Hurley were closely followed in by Catriona Bain and by a delighted Rachel Wardrope whose time of 43.40 chopped 5 minutes off her previous best performance. M50 John Henderson was just ahead of W40 Julie Reid who reduced her pb by one minute to 44.34. Natalie McWilliams who has only recently started training with the club also posted a pb of 44.59. Erica Christie clinched the W60 prize as expected. M50 Chris Paton sliced 23 seconds from his pb with newcomer David Lyon 25 seconds behind him. M65 Sandy Eaglesham was just over 50 minutes and the following runners from the development group all closed in between 51 to 55 minutes – W40 Anne Marie Masterton with a pb, Heidi Evans, W50 Veronica Connochie and M40 Steven Miller. Finally, a special mention goes to young athlete Cammy Finlayson who participated in the 10k race as part of his school PE course and ran an even paced pb time of 45.32 supported by his teacher who ran alongside him.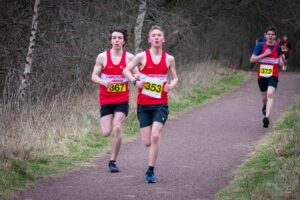 Cambuslang supplied 20 of the 28 finishers in the accompanying 3K race which is mainly a development race for the younger athletes. The home club captured the first 3 places courtesy of the U17 duo of Zack Haggerty and Chris Black plus U15 Daibhidh Kinnaird who has just been selected to represent the Scottish Schools in the forthcoming Schools Cross Country International match. Daibhidh has made great progress in his first season with the club. Zach set a new course record of 9.39 as did 5th finisher Ewan Kennedy who posted an U11 record of 10.14. U15 Euan Reid and U17 Gabriel Murphy occupied the next 2 slots ahead of U15 Alistair McLachlan and U13 Finlay Reid. The first 3 in the girls race then crossed the line with only 13 seconds between them. U15 Olivia McNicol took the honours ahead of East Kilbride's U11 Zoe Baillie and Cambuslang's U15 Emma Ritchie. A procession of the home athletes followed in the order of U17 Erin Kearney, promising U11 Brooke Walker, U11 Douglas Gallie, U17 Lucy McGrandle, U15 Martha Fleming , U11 Aiden O'Connell, U17 Mollie Mae Scott and the U11 girls trio of Sophie Ewart, Holly Greer and Gemma Drummond.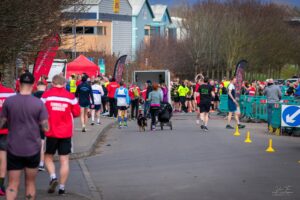 Events like this do not happen on their own. The club depends on its volunteers freely giving their time in the build up to the event, on the day itself and post event too. The committee is indebted to and would like to thank the many individuals who were involved. It would be impossible to mention everyone but a special vote of thanks is extended to all who helped make this event a great success – you know who you are and it is much appreciated.
The Loch Ness Half Marathon at Inverness which hosted the Scottish Championship for 2023 attracted a quality field. Shettleston runner Lachlan Oates went out hard from the gun with only Fraser Stewart and Scottish Cross Country bronze medallist Hamish Hickey going with him. Lachlan dropped back at the 4 miles mark as Fraser and Hamish continued their head to head tussle. However, at 9 miles Fraser decided to use his marathon based training strength and broke away from his rival. His tactic worked as he crossed the line in a pb of 65.24 ahead of Fife's Lewis Rodgers who had overhauled Hickey. Fraser was delighted to add an individual Scottish gold medal to his collection of team medals and now has his sights set on the London Marathon for which he has been given an elite entry after recording a time of 2.18 last year. Another athlete who is no stranger to acquiring national medals is Erica Christie who returned home with the W60 bronze award. New member Iain Murphy with a 77.02 clocking improved his pb by 31 seconds and Lesley Blackwood in a time of 86. 45 closed in on 16th place in an equally competitive ladies race.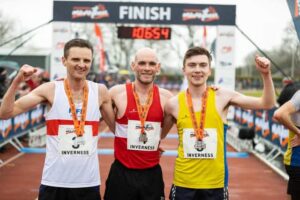 The Alloa Half Marathon was held on the same day with 9 Cambuslang members participating. First home for the club was former club captain Iain Reid in 73.42 who was using the race as part of his build up for the Paris Marathon. Steven Fitzpatrick with a 64 seconds improvement was only 8 seconds behind Iain. Richie Carr, the present club captain, shaved 9 seconds off his pb to lower it to 75.20. Tom Adams, Chris Campbell, Julie Reid and Anne-Marie Masterton all followed up their recent 10K pbs with half marathon pbs while club coach Iain Crawford clocked his 2nd quickest time since 2016. Andrew Blain used the race as a steady Sunday morning training run. Georgia Freeman-Mills on a visit home to her parents broke 90 minutes by 17 seconds for the first time in the Cambridge half marathon, an improvement of 6 minutes.
The red and white vests even appeared in Tokyo. Iain McDonald and Tony McCutcheon made the long journey to contest the Tokyo Marathon. Iain was rewarded with a pb of 2.38.50. This was his 3rd marathon in the space of 6 months having also competed in the Chicago and New York Marathons in October and November. Tony delivered a good M50 age performance time of 3 hours and 10 minutes.
Former Scottish Marathon Jamie Reid competed in the Edinburgh Meadows Marathon. His aim was to register a M50 qualifying time for next year's Boston Marathon and he accomplished this with a time of 3.07.40 for 3rd place. Elsewhere hill running specialist Alasdair Campbell made a rare road appearance when winning the Callander 10K in the brisk time of 32.24.
The club was pleased to have U17 Mollie Mae Scott represent Cambuslang Harriers at the Scottish Young Athletics Youth Forum which allowed her to meet up with other similar minded young athletes and to be enthused by inspirational guest speakers such as double Olympian and multiple medallist Eilidh Doyle.
David Cooney
Join Cambuslang Harriers
Interested in joining one of Scotland's premier road and cross country running clubs as a member or a volunteer? We cater for runners of all abilities and offer regular training sessions based from our clubhouse in Cambuslang, we also have regular training on the track at the John Wright Sport Centre in East Kilbride, why not come along and join us?


All Content Copyright © 2007-2023, Cambuslang Harriers I Site design by No Lesser Panda