CAMBUSLANG Harriers won team gold in the under 13 and under 15 girls and
boys races along with gold for the under 17 boys and silver medals for the
senior women and men. The males were also awarded the overall trophy for
the best performing club across the 5 different age groups. There were also
individual gold medals for under 13, 15, 17 and 20 runners Stewart Millard,
Michael Black, Ryan Donnelly and Scott Sommerville with Erica Christie taking
the masters ladies title. Silver medals went to under 13 athletes Millie Nicholl
and Lewis Roddis and to over 40 Justin Carter.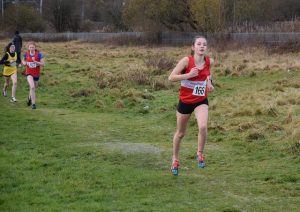 In the opening event of the day for under 11 athletes Olivia McNicol, Lucy
McGardle, Emma Ritchie, Kathleen McNicol, Sam Higgins and Christopher Black
were given a taste of cross country running over a muddy course. The under
13 girls team of Millie Nicoll, Eva Ritchie and Abbie McLue packed closely to lift
the team award with Eilidh Kennedy and Morvern Crawford in support. Their
under 13 male counterparts victory was even more convincing with 4 th placed
Fearghus MacGregor backing up gold and silver medallists Stewart Millard and
Lewis Roddis with Michael Byrne also competing. The under 13 girls and boys
were also clear winners thanks to Niamh Riggins, Shona Carey, Susie
McLaughlin, Michael Black, Aaron Grew and Sean Friel. Robbie Woods and Zak
Povey were not far adrift and Sean Stack completed our complement of under
15 boys. In the under 17 boys event Ryan Donnelly led from gun to tape and
led Keir Crawford and Andrew Carey to team victory. Unfortunately the club
did not have a third under 17 female athlete to back up second and 5 th placed
Holly Brock and Ruth Kelly.
Both men and women raced together over a testing 3 lap course. Erica
Christie, masters gold medallist, Lesley McArdle and Bernie O'Neil in her first
race of the season secured team silver with Paula McCabe offering support.
Jack MacGregor in his first year as a senior ran a competitive race to lead M40
Justin Carter and leading U20 Scott Sommerville also to team silver. Behind
them came a succession of red and white vests – Chris Upson, Iain Nicholl,
John Paul Murphy, Mick O'Hagan, Alick Walkinshaw, Paul Thompson, Dan
O'Connell, Kenny Finlayson, Des Dickson, Frank Hurley, Willie Fairley, John
Kelly, Eddie Carr and Sandy Eaglesham. Unfortunately Scottish 4K M40 XC Champion Robert Gilroy had to drop out of the race suffering from an ongoing chest infection. In spite of several late withdrawals Cambuslang Harriers still had by far the biggest male representation of all Lanarkshire clubs in this event.
Other club athletes were involved on the same day in the prestigious Liverpool
Cross Country event which incorporated the UK Trials for the forthcoming
European Championships. One of our members Moira Stewart, the daughter
of longstanding club stalwart Eddie, has already been selected to represent the
Czech Republic. Gavin Smith running for Scotland in the U20 race ran solidly as
did Christopher McLew and Drew Pollock in the U17 event against the cream
of UK cross country runners. Grant Sheldon ran strongly in the senior race to
finish 3 rd Scottish runner home behind Olympian Andrew Butchart and Luke
Traynor. Grant only lost out to Luke in a sprint finish. It has since been
announced that Grant will again be representing Scotland in the 2018
Commonwealth Games Triathlon Event in Australia.
Once again thanks are due to the club's coaches, officials, parents and
supporters who freely give their time to assist at these events.
David Cooney