News Archive
Explore our archive of old news articles, click on one of the years below to see all the articles from that year.
Who are Cambuslang Harriers?
Cambuslang Harriers, since its formation in 1948, has become one of the premier cross country and road running clubs across all age groups in Scotland. We also have a very talented girls and ladies group who now regularly win major team honours.


XMAS COMES EARLY FOR CAMBUSLANG HARRIERS AT THE WEST DISTRICT CROSS COUNTRY CHAMPIONSHIPS
Cambuslang Harriers collected 4 team gold medals and two team silver plus 3 individual gold medals and one silver medal. The senior ladies won Cambuslang's first ever female senior team gold in the district championship while the under 13 boys captured team gold as did the under 20, senior and masters men. Both the under 17 boys and masters women finished runners up. There were further individual gold medals for U17 Drew Pollock, U20 Gavin Smith, Commonwealth Games bound senior Grant Sheldon and master Iain Reid with Robert Gilroy lifting the master silver award.
In the opening event of the day the under 13 girls team of Millie Nicholl, Eva Ritchie and Abbie McClue finished a worthy 4th just outside a medal position and were backed up by Eilidh Kennedy and Morvern Cameron. The under 13 boys team of Lewis Roddis, Stewart Millard and Fearghus MacGregor packed well to deliver the club's first team victory in this event since 2001. Michael Byrne was our other competitor in this age category. Next up were the under 15 girls trio of Niamh Riggins, Susie McLaughlin and Shona Carey who finished a creditable 5th in spite of Shona battling on gamely to complete the team while suffering from an ankle problem running on the frozen ground. The under 15 boys replicated the girls finishing position thanks to Brodie Aitken, Michael Black and Zak Povey and were supported by Robbie Woods and Mark Cassidy. Our only U17 girl representative Holly Brock competed well in her age category. The under 17 boys event provided a thrilling finale as Drew Pollock made a strong late challenge over the last half mile to advance from 5th to first place and led Ryan Donnelly and Christopher McLew to team silver. Ruairidh MacGregor, Keir Crawford and Andrew Carey followed in next.
In the senior and masters women race Katie Bristow who had made the long journey from the wind battered Shetland Isles to compete finished a fine 5th to lead Alex Lamond, Kirsty O'Brien and Jennifer Reid to a historic district team victory while Jennifer, leading O60 female runner Erica Christie and Bernie O'Neil were runners up in the masters team event. Lesley McArdle continued her recent good runs over country.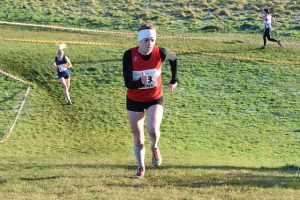 In the penultimate race of the day Gavin Smith ran confidently from the front to secure a comfortable victory and with able support from Struan Paton and Jamie MacKinnon Cambuslang won the team title for the 3rd consecutive year. Scott Sommerville finished not far adrift of Struan and Jamie while Eamon Carr was forced to retire suffering from shin splints on the hard unforgiving surface.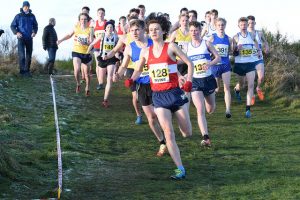 Cambuslang fielded 26 athletes in the senior and masters men's 10K race. For most of the race there was a close individual tussle between Cambuslang's Grant Sheldon and Inverclyde's Andrew Douglas and Shettleston's Lachlan Oates as well as an intriguing and fluctuating team competition between Cambuslang and local rivals Shettleston. The individual title was only decided in the closing few strides when Grant squeezed past Andy. Grant's main focus is on getting himself in the best possible shape for next April's Commomwealth Games Triathlon and to help with his preparation he had earlier that morning completed an intensive swimming session. The head to head team rivalry finally resolved itself with the tide turning in Cambuslang's favour on the last lap as their 6 counters finished in the top 16. Grant with close backing from Craig Jardine 4th, Stuart Gibson 7th, Ben Hukins 10th, club captain Iain Reid 15th and Iain MacCorquodale 16th gave Cambuslang an 11 point victory margin. Spare a thought for Kevan Harvey in his first season of competition and Alasdair Campbell who were 17th and 19th out of 218 finishers but missed out on a team medal. Interestingly Cambuslang's next 6 runners including Kevan, Alasdair, Fraser Stewart, Robert Gilroy, Jack MacGregor and Justin Carter would have won bronze medals if the rules had allowed a club to receive more than one team medal.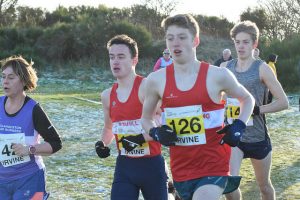 Thereafter a succession of red and white vests crossed the finishing line in the following order – Richard Carr, Johnny MacNamara, Brian Douglas, leading M55 Alick Walkinsaw, Iain Nicholl, first M60 Paul Thompson, Mick O'Hagan, Dan O'Connell, leading M65 Frank Hurley, Des Dickson, Scott Hunter, club coach Simon Gold, Willie Fairley and Alan Wylie. If the senior team competition had been close the masters' one was never in doubt as Iain Reid and Robert Gilroy were first and second individuals home and Justin Carter 4th.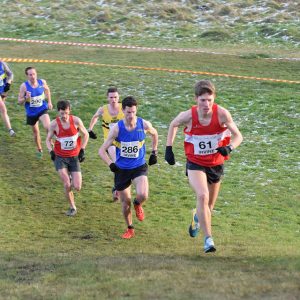 The club would like to thank the West District Committee and the North Ayrshire club for staging a well organised event. Congratulations are also due to all our athletes who competed in the sub zero conditions as well as thanking all our coaches, officials, parents and supporters who contributed to such a successful day for Cambuslang Harriers and to Colin Stephen for capturing on camera the agony and ecstasy of our runners in action.
David Cooney
Join Cambuslang Harriers
Interested in joining one of Scotland's premier road and cross country running clubs as a member or a volunteer? We cater for runners of all abilities and offer regular training sessions based from our clubhouse in Cambuslang, we also have regular training on the track at the John Wright Sport Centre in East Kilbride, why not come along and join us?


All Content Copyright © 2007-2023, Cambuslang Harriers I Site design by No Lesser Panda