News Archive
Explore our archive of old news articles, click on one of the years below to see all the articles from that year.
Who are Cambuslang Harriers?
Cambuslang Harriers, since its formation in 1948, has become one of the premier cross country and road running clubs across all age groups in Scotland. We also have a very talented girls and ladies group who now regularly win major team honours.


Willie Marshall 12/12/1927 – 30/9/2016
by David Cooney
I am sad to report that Willie Marshall passed away on Friday 30th September. Our thoughts at this time go out to his family – his son David and daughter Carol and their respective spouses Fiona and Brian, grandchildren Lauren and Grant and great grandson Noah. Willie was very much a family man. His family including his wife Mary until her death in 2007 fully supported his running career. When not racing he enjoyed going to the football with David to support their beloved Motherwell FC.
Willie had a long and prolific running career particularly from the age of 50 onwards at Scottish, UK, European and World level. He won at least 10 Scottish Veteran track titles, 11 Scottish Veteran Cross Country titles along with 1 silver and 1 bronze, 14 UK Veteran track titles and 4 road titles, 4 European Veteran and 4 World Veteran titles while breaking 4 Veteran World records in addition to Scottish and UK Veteran records. What an incredible and often unheralded list of achievements for such a quiet and unassuming man! No one who saw him shuffling at a slow pace around the streets of Hamilton would have imagined the running stature of this elderly frail looking gentleman. Willie may have looked frail but in running terms he was strong and determined and was a totally different athlete racing than when training. He was a difficult man to drop and once he was in top gear he did not falter. His maxim was to train slowly but to race regularly which clearly worked for him.
Willie represented Motherwell YMCA, Clyde Valley and Cambuslang Harriers from 1994 onwards. His son David also took up running with Clyde Valley and later Cambuslang. David posted the very respectable times of 8.42, 15.06 and 31.40 for 3/5/10K before his running career was cut short by injury. Willie and David made Scottish Athletics history when they became the first father and son to compete in the same team in the prestigious Edinburgh to Glasgow road relay in the 1982 event. Willie's grandson Grant Sheldon, has recently shown that he has inherited his grandfather's genes by winning this year's World Students Triathlon Championship and gaining a European Under 23 Triathlon bronze medal. Grant also competed for Scotland in the 2014 Commonwealth Triathlon Event and won the 2011 Scottish Cross Country Under17 Cross Country Championship when competing for Cambuslang Harriers.
I first became aware of Willie when competing in the 1973 Clydebank to Helensburgh 16 mile road race. This was my first attempt at the distance and I was surprised to be overtaken at the halfway stage by an apparently frail older runner wearing black plimsolls. However, there was nothing I could do but let him disappear into the distance. When he moved house in 1980 to near where I stayed we started training together on a Sunday and were accompanied by David, Tom Ulliott, Kevin Newberry and Donald Burt. This continued for over a decade. I also sometimes took Willie to races as he did not drive. We were competing in the 1981 Sanquhar 11 mile road race which weaved its way from the splendid starting point of Drumlanrig Castle along quiet country roads into Sanquhar playing fields. We ran the race together and the tranquil atmosphere of the day was abruptly shattered on entering the track for the run in. We suddenly heard loud animated voices urging both of us on. Naturally Jim Brown and Peter Fox of Clyde Valley who had finished 1st and 4th were shouting Willie on as he was their 3rd and final counter for the team race. I was the only competitor for Cambuslang that day but I found myself being roared on by the Springburn trio of Graham Crawford, Doug Gunstone and Alastair MacFarlane who had finished in 5th, 6th and 7th place. Springburn were sitting on 18 points and would clinch the team title by 1 point if I finished ahead of Willie. I duly beat Willie by 3 seconds much to the delight of the Springburn team who jokingly offered me an honorary membership of their club. Willie was content to win the first veteran prize. Coincidentally Graham was reminding me of this incident earlier this year when we met at a cross country event.
During all the time I knew Willie he never had a bad word to say about anyone and he was extremely modest about his superb achievements. Although he retired from competition in the early 2000s due to eye and leg problems he continued light running. In recent years he was not able to train but he was still out walking and could at times be seen be seen breaking into his shuffling running style to catch a bus. He took great pride in seeing Grant compete for Scotland at the Commonwealth Games and on his recent European and World Triathlon successes. Only a month ago he was delighted to receive a copy of the Scottish Veteran Harriers Magazine in which Colin Youngson, in collaboration with Willie's son David, had written an excellent article on his remarkable running career. Colin's article serves as a most fitting and well deserved tribute to a Scottish running stalwart and with the permission of the Scottish Veteran Harriers I am pleased to include Colin's article here.
———————————
the following profile appeared in the Scottish Veteran Harriers Newsletter earlier this year
GREAT SCOTTISH VETERAN ATHLETES: WILLIAM MARSHALL
(Willie Marshall had phenomenal success as a runner, especially between the ages of 50 and 70. When I won my first Scottish Vets XC title in 1988, Willie became M60 champion. We became nodding acquaintances, but he didn't say much and, although he was well respected, I did not understand just how good he was. Well I sure do now; and can only marvel at the times he set and the titles he won. It is a real pleasure to profile him properly here. Ed.)
CLUBs: Motherwell YMCA, Clyde Valley and Cambuslang.
DATE OF BIRTH: 12.12.1927.
OCCUPATION: Invoice clerk –retired.
HOW DID YOU GET INVOLVED IN THE SPORT? I saw the local Harriers at Motherwell out and about and thought I would like to do that.
HAS ANY INDIVIDUAL OR GROUP HAD A MARKED INFLUENCE ON YOUR ATTITUDE OR INDIVIDUAL PERFORMANCE? The runners and club officials at Motherwell were very supportive.
WHAT EXACTLY DO YOU GET OUT OF THE SPORT? I am no longer running due to health issues. However I did enjoy the fellowship, the travelling and the winning!!!
WHAT DO YOU CONSIDER TO BE YOUR BEST EVER PERFORMANCE OR PERFORMANCES? Winning my first World titles in Canada in 1994 at 10k and 25k on the road.
YOUR WORST? Anything that involved heavy cross country courses !!!!
WHAT UNFULFILLED AMBITIONS DO YOU HAVE? None.
OTHER LEISURE ACTIVITIES? As well as travelling to races, I used to enjoy many family holidays.
CAN YOU GIVE SOME DETAILS OF YOUR TRAINING? Long slow distance on the road – 50-60 miles per week. Raced every second week and that gave me the speed required.
The first mention I can find of William Marshall in the records is in November 1949, when he ran the First Stage of the Edinburgh to Glasgow Road Relay. He wore the vest of Motherwell YMCA, and it is fair to say that the club struggled at that time. In the 1956 Relay, Willie ran (his favourite) Stage Five, and Motherwell improved to 12th. Marshall ran Five again, every year from 1957 to 1962 – and his club recorded the following placings: 10th, 6th, 5th, 3rd and 1st! YMCA stars included Andy Brown and his brother Alec, Bert McKay, Tom Scott, Davie Simpson and, later on, John Linaker, Ian McCafferty and Dick Wedlock. No wonder they became the top club in Scotland. During their first victory in 1962, Willie Marshall ran Stage Three and gained five places. Motherwell YMCA won again in 1963 and 1964 (with Willie running 3); and in 1965, when Willie ran Five, ended up second to the superb Edinburgh University Hare and Hounds team, led by Fergus Murray. YMCA were third in 1966 (Willie on Three). However by 1967 the bubble had burst, and they finished 16th (with Willie on Four); and in 1968 could only manage 19th, when he ran the First Stage at the age of 40. Nevertheless, William Marshall must have been very proud to have played a stalwart part in the rise and fall of such a splendid club; and to have won three gold, one silver and two bronze medals in the wonderful E to G.
Although Willie Marshall was in no doubt that road was his favourite surface; followed by track; and only then country (especially mud), he did finish 58th in the 1964 Senior National, which made him Motherwell's fifth counter and helped to secure team bronze.
William Marshall must have continued training and racing into the 1970s. The SVHC held their first cross-country championships in 1971, when runners aged 40-49 competed in the same race and there was no M45 category. He must have looked forward to turning 50; and once this had happened, twenty years of greater success began.
In the 1978 Scottish Veterans Cross-Country Championships, William Marshall (running for Clyde Valley AC) won his first title at M50. The following year he lost a close battle with Hugh Mitchell of Shettleston. However Willie returned to the gold standard in 1980 and was champion again in 1981.
When he turned 60, for four years he had no close rival, and (representing Motherwell YMCA once more) won four successive Scottish Veterans XC championships (1988-1991). Between 1993 and 1996 (running for Cambuslang) Willie reigned supreme and won another four titles, in the M65 age group. In total, he had collected an amazing 11 individual gold medals in this prestigious fixture!
An unusual race participation for William Marshall took place in November 1993 at Lord Trehearne's Estate outside Cardiff, when he ran for Scottish Veterans in the annual Five Nations International Cross-Country. The Scottish M60 team: Hugh Gibson, Willie Marshall and Pat Keenan (who packed well in 5th, 6th and 8th) won silver medals.
David Marshall, Willie's son wrote: "My Dad had been successful before M50, picking up prizes in many events. However after this, more momentum was gained.
Between the age of 50 and 55, he won medals at Scottish and British level, especially on the road and track. An even greater change was in 1984, when he became European M55 10k road champion in Switzerland. The same year he won the British M55 1500m. In 1985, he won the British Vets M55 5000m title.
Other highlights included the following.
1988: he won the M60 British Veterans cross-country at Irvine, after a close battle with Bob Belford (a World Vets 5000m bronze medallist). Then he was first in the Scottish Vets track M60 800m (2.33.0) and 1500m (4.55.3). Other victories included the British M60 road 10k and track 5000m championships.
1989: he broke M60 World Indoor records for 1500m (4.49.5) and 3000m (10.18.6), while winning British Indoor titles. The same year he won the European M60 10k on the road; as well as the British Vets 5000m and 10,000m on the track; and 10 miles on the road.
1990: he was first in the British M60 10 miles road, 5000m and 10,000m track.
1993: he set another World record (M65) in winning the Scottish Vets 3000 Indoor in 10.32.28. He also won the British 5000m, setting a British record. Then he was first in the M65 European 10k Road championship in the Czech Republic; as well as winning the Half Marathon the following day!!!!!
1994: he won the World Vets M65 10k and 25k titles in Canada. In addition he was first in the British Vets indoor 3000m.
1995: he was first in the M65 European 10k in Spain (37.14); and also victorious in the Half Marathon (1.23.37), again on the following day. Earlier that year, he had won the M65 British cross-country title at Irvine.
1998: he won the World M70 10k road in Japan; and broke the World record in the British indoor 3000m. In addition he was first in the Scottish M70 Indoor 1500m and 3000m; and the Outdoor 5000m.
1999: in the British Vets track, he won M70 titles at 5000m and 10,000m
2000: he won the M70 World 10k road title in Spain (39.57).
Willie winning the 2000 M70 10k Road title in Spain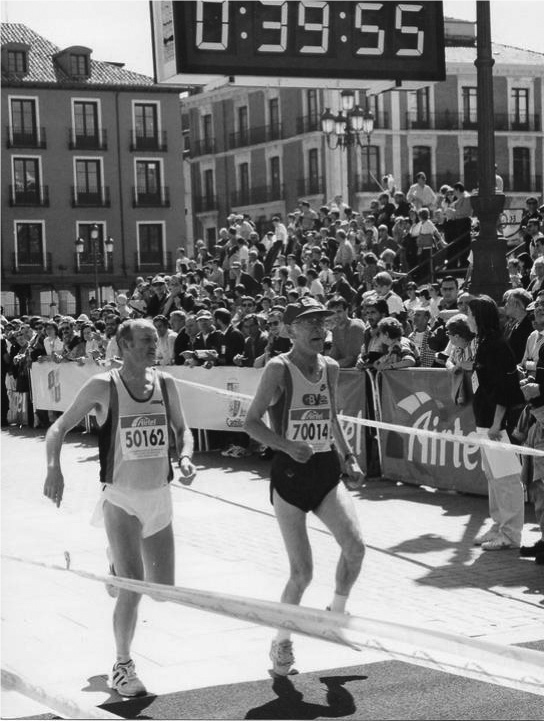 (As anyone who has competed from M50 to M70 will be only too aware, Willie Marshall's list of titles and very fast times will be almost impossible to match. What an inspiration and formidable challenge for future Masters athletes in those age-groups! His development is interesting: from a club member who trained lightly; to a good club runner who avoided too much mileage but raced frequently for speed-work; to a brilliant veteran, who continued to train steadily and also to race at all distances from 800m to 25km. 'Train, Don't Strain' was the philosophy behind Long Slow Distance. Not a bad notion for anyone wishing to run well after 50?)
Bert McKay, who was a very important influence on the success of Motherwell YMCA, said: "Willie seemed to be a very light trainer but took part regularly in fast pack runs at the club on Tuesdays and Thursdays. He was a nice man, quiet and apparently frail but obviously much tougher than he looked. I remember one particular 5 mile road run I had with Willie just a week before one E to G. I was in good form but could not drop Willie at any time during the run! He was a lot better than he showed when he was younger."
Peter Duffy (who was a good hill-runner and also won a medal in the Scottish Marathon) said: "I was a team-mate of Willie's at Motherwell YMCA. On the road he was too fast for me and had a beautifully smooth, flowing style. When I was a club member, he only trained on his own and did not run at all on Sundays, due to strong Christian beliefs. He was respected for this and his fine running in the E to G."
George Black (who has recently broken the British M75 20 miles record) wrote:
"I remember Willie Marshall well. When I started running he was my target.
Remember first time I beat him was a 2 mile at Glasgow Green I was pleased although he was 11 years older than me!
One small anecdote. I was competing in a Yorkshire Vets 5K track championship when that fine runner, Gerry Spinks of Bingley, approached a group of us and asked for our assistance in his attempt to better the British Record for the event.
I asked who held the record and he replied, "some Scots guy."
I correctly suspected it was Willie Marshall so my response was less than cordial.
He failed in his attempt. I think it likely that Willie still holds the British Road 10k record for M70 (which he set at Grangemouth).
I don't suppose he will remember me but convey my regards."
David Fairweather wrote:
"I knew Willie quite well. He was always quiet and unassuming, and seemed to train very slowly, but still produced the speed when it was needed in races.
I remember asking him if he would run at the 1993 Masters Cross Country International in Cardiff. He said he wasn't a XC runner, and didn't think he was good enough! However I persuaded him to run and (at the age of 65) he finished 6th M60, a few seconds behind Hugh Gibson and two places in front of Pat Keenan, helping the team to win silver medals."

One response to "Willie Marshall 12/12/1927 – 30/9/2016"
Join Cambuslang Harriers
Interested in joining one of Scotland's premier road and cross country running clubs as a member or a volunteer? We cater for runners of all abilities and offer regular training sessions based from our clubhouse in Cambuslang, we also have regular training on the track at the John Wright Sport Centre in East Kilbride, why not come along and join us?


All Content Copyright © 2007-2023, Cambuslang Harriers I Site design by No Lesser Panda