News Archive
Explore our archive of old news articles, click on one of the years below to see all the articles from that year.
Who are Cambuslang Harriers?
Cambuslang Harriers, since its formation in 1948, has become one of the premier cross country and road running clubs across all age groups in Scotland. We also have a very talented girls and ladies group who now regularly win major team honours.


TRIPLE SUCCESS FOR RONHILL CAMBUSLANG HARRIERS AT THE SCOTTISH ROAD RELAY CHAMPIONSHIPS
Sunday was a special day for Ronhill Cambuslang Harriers who captured the 3 men relay titles on offer while the ladies finished a very creditable 7th in their event. The male and female races were run together with the junior/senior men and over 40 men running 6 stages whereas the over 50 men and women contested 4 stages. The athletes ran alternate short and long legs of 3.1 and 5.8 miles around a testing road and river path circuit in Livingston.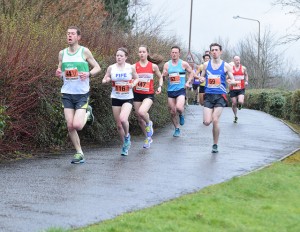 Club race day hopes were high as the junior/senior men had won 1 silver and 4 bronze medals in the previous 5 years, the over 40s had lifted 5 consecutive team gold medals and the over 50s 3 consecutive gold medals since the inception of this age group award in 2013. However, fierce competition was expected at senior level from Central AC, Corstorphine, Shettleston and Inverclyde with Kirkintilloch Olympians the main opposition for the O40 sextet and Shettleston for the O50 quartet.

The junior/senior men race as suspected proved to be very open and competitive. With pre race favourites Central missing 3 key men there was a feeling that they might be vulnerable even although they have quality in depth. Corstorphine and Inverclyde like ourselves had managed to field our key athletes with Shettleston short of a few. In the end after 26 miles of running only 61 seconds separated the leading 4 clubs with RHC prevailing over Central, Inverclyde and Corstorphine. This gave Cambuslang its first victory since 2007.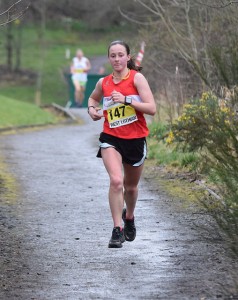 On the opening short leg Iain Reid carried out his remit and kept the club in close contention behind Corstorphine's Donald MacAulay to finish 8th in 16.08 with Stuart Gibson's impressive 5th fastest long time of the day of 29.21 moving the club up to 4th behind new leaders Central after 2 legs. Under 20 Craig Jardine continued his recent good form to record 15.41, the 2nd fastest time of the day, to take the club up to 3rd and only 9 and 7 seconds behind the 2 leading clubs, Inverclyde for whom Johnny Glen (15.30) had recorded the fastest time of the day and Central. Robert Gilroy (29.41) who is only 3 weeks short of his 40th birthday and a survivor of the 2007 winning team displayed his usual grit and determination to lift Cambuslang into the crucial pole position 8 seconds ahead of Calum McKenzie of Corstorphine with Inverclyde and Central still in contention. On the final short leg U20 Scottish Cross Country Internationalist Ryan Thomson's 3rd fastest time of the day (15.43) stretched Cambuslang's lead to 36 seconds over Central's Jamie Crowe with Corstorphine and Inverclyde 3rd and 4th. It was now down to Kyle McLellan, the West District Cross Country Champion, to hold onto the lead as the 3 chasing clubs tried to reel him in. Kyle had no recent form as his only race this year had been the Inter District Cross Country Championship in early January. His lack of racing has been due to his long hours working as a Junior Doctor in Accident and Emergency and he had just completed a 63 hour week. However, Kyle was up to the challenge and his solo stint of 29.36 was more than enough to give Cambuslang a 24 second victory over Central's Dale Colley with the in form Andrew Douglas moving Inverclyde into the bronze position with his 28.41 time being the fastest of the day. Spare a thought for Corstorphine whose overall time would have been good enough to have secured a bronze medal in the previous 4 years.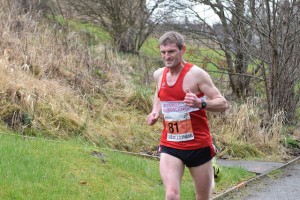 Amidst the junior and senior men's fluctuating competition the men's over 40 race appeared to be more predictable after Cambuslang moved into the lead on leg 2 which they then maintained and indeed built upon to the finish. Tony McCutcheon, Alick Walkinshaw and Mick O'Hagan, who were called upon to run the 3 short legs after a number of late call offs due to illness and injury including Frank McGowan pulling a muscle on the eve of the race, acquitted themselves well and with support from the first 3 finishers in the Scottish Masters Cross Country Championships contesting the long legs Kenny Macpherson, Kerry-Liam Wilson and Jamie Reid the Red and Whites secured a commanding lead over Kirkintilloch and Bellahouston RR who had their own close battle throughout. Not surprisingly Kerry-Liam , Jamie, another member of the 2007 winning team and Kenny recovering from a back injury were the 3 fastest over 40 men with respective times of 30.56, 31.30 and 31.51 which contributed to the over 40 team finishing 12th overall. It was a special day for Tony who in only his 2nd season in the sport won his first Scottish team medal and a gold one at that.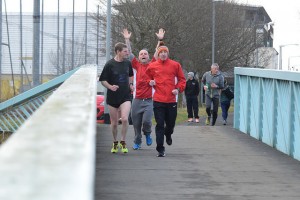 The most competitive race of the day, however, was the titanic struggle for over 50 supremacy right to the line between RHC and Shettleston. After the 2 opening legs Paul Thompson and Chris Upson held a 19 second lead over Shettleston. However, Shettleston's Billy Coyle, a sub 30 minute 10K runner in his day, gradually reeled in Colin Feechan with the 2 of them running together until the Shettleston man prised upon a narrow 2 seconds lead. Both men were rewarded with the 2 fastest overall times for the short leg with Paul 3rd fastest. There was now a fight to the finish between 2 opponents not willing to give quarter to the other. Both Stan MacKenzie and Andy Little were locked together until the final uphill sprint to the line. At one stage it looked as if Andy had prevailed but a practiced well time sprint by Stan gave Cambuslang a 4 second victory over Shettleston. Stan and Andy's duel rewarded them with 2nd and 3rd fastest overall times with Metro Aberdeen's Nick Milosorov, the current over 50 Scottish Cross Country Champion, recording the fastest stint and taking his club into the bronze medal position.
Cambuslang's B team of under 20 Ross Stephen, Alasdair Campbell, Al Campbell, Simon Gold, under 20 Scott Sommerville and Dan O'Connell combined well to finish 21st overall. It was good to see the non related two A Campbells ( Alasdair and Alistair) racing again and showing good form while the two under 20s did well as did Simon in his first season of club competition. Dan who has just moved into the over 50 category continued his good form.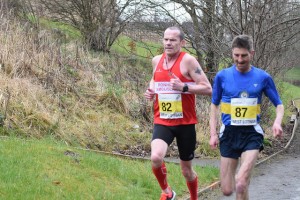 The final men's team was composed mainly of runners new to competitive club running having come from a background of parkruns although Michael Barker in the final stages of his training for the Londom Marathon has had previous experience in this race. The sextet of Steven Phillips, Michael Barker, Ken McInnes, David Scott, David Stirling and Paul Kernohan performed well and will have gained good experience for their future development in achieving 47th place.
The club also made history by fielding a lady's team for the first time in this event. Unfortunately Sarah Benson had taken ill in the days leading up to the race and had to withdraw. This, however, allowed Jennifer Reid to move up from the B team to support Eve MacKinnon, Alex Lamond and Kirsty Anderson. The quartet laid down a marker for next year to finish a very creditable 7th. Under 20 Eve who had run for the U20 Scottish team in the recent Celtic International finished 3rd lady and Alex, a former U20 Scottish Bronze Cross Country Medallist handed over in 5th place to former European Silver and Bronze Sprint Triathlon Medallist Kirsty who came home in 7th place which Jennifer, in her last race before the London Marathon, held.
It was certainly a remarkable and unprecedented achievement for one club to win the 3 available men's titles. However, the celebrations were tinged with sadness particularly for the older club members as former member and one of our current 10K road race sponsors Jim Fitzpatrick had sadly passed away the day before. The club would like to dedicate the 3 victories to his memory and to pass on our condolences to his wife Maeve, sons Tim and David and daughter Julie.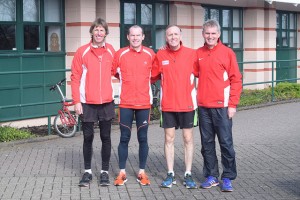 Many thanks are due to our runners, the coaches, officials and supporters including our photographers Colin Stephen and Alan Ramage who all played their part on the day. I am reliably informed that the parents of 2 of our junior/senior gold medallists, Owen Reid and Charlie Thomson, dead heated in the unofficial 100 metres crutch dash. Charlie, as competitive as ever, is claiming a moral victory as Owen had 2 crutches to his one. John McCluskey too is to be thanked for volunteering to steward the event. Well done also to the Road Running and Cross Country Commission with support from Alex McEwan and Lothian AC for their efficient organisation of the event.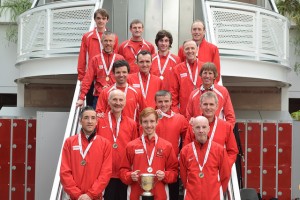 Congratulations also to our under 13 boys team of Sean Friel, Brodie Aitken and Aaron Grew who won team bronze in Saturday's Scottish Road Championships at Greenock. Other club successes at the weekend came from Justin Carter and Lesley McArdle who were first male and female runners at the Tollcross Parkrun, Richard Carr second at Strathclyde in a pb of 17.35 and Simon Gold 3rd at Tollcross. Davie Cole who turns a vet 40 next week won the Tay 10 Mile Race in a course record and pb of 55.09. His next race will be the London Marathon. Ben Hukins also set a course record when winning the 20K Dales Trail Race. Finally well done to Kenny Finlayson who took over 20 minutes from his pb in the Paris Marathon in running 3.17.26. Acknowledgement is also due to David Stirling for collating the weekend results.
David Cooney
Join Cambuslang Harriers
Interested in joining one of Scotland's premier road and cross country running clubs as a member or a volunteer? We cater for runners of all abilities and offer regular training sessions based from our clubhouse in Cambuslang, we also have regular training on the track at the John Wright Sport Centre in East Kilbride, why not come along and join us?


All Content Copyright © 2007-2023, Cambuslang Harriers I Site design by No Lesser Panda