News Archive
Explore our archive of old news articles, click on one of the years below to see all the articles from that year.
Who are Cambuslang Harriers?
Cambuslang Harriers, since its formation in 1948, has become one of the premier cross country and road running clubs across all age groups in Scotland. We also have a very talented girls and ladies group who now regularly win major team honours.


FRASER AND CATHERINE STEWART SMASH THE DOWN BY THE RIVER 10K COURSE RECORDS.
Cambuslang Harriers were delighted to stage once again the Achilles Heel sponsored Down by the River 10K and 3K races held on the traffic free Clyde Walkway. The very calm conditions on the day were conducive to producing fast times and so it proved to be with a number of course records being set. Race winners Fraser Stewart of the home club (31.05) and Catherine Stewart (38.10), an unattached runner, reduced the existing course records by 44 and 29 seconds respectively with runner up Lesley Blackwood (38.25) of Cambuslang also comfortably inside the previous record. Congratulations are due to Fraser on his 3rd consecutive victory. Incidentally neither Fraser and Catherine are related. Other course records fell to second placed M40 Iain Carroll of Bellahouston Harriers, Cambuslang's 4th placed M50 Stevie Wylie and to U20 Eilidh Kennedy of Cambuslang. Stevie's new course record by a massive 3 minutes and 54 seconds put him a close second in the UK M50 rankings for the distance. The Cambuslang male trio of Fraser, 3rd placed Gordon Robertson and Stevie lifted the team award from Bellahouston Harriers as did the Cambuslang ladies trio of Lesley, Kirsty O'Brien and Catriona Bain from the local Newton Road Runners . The U20 men and O60 ladies' prizes went to promising newcomer Luke Biggart and the experienced Erica Christie, both also representing the red and whites. Unattached runners Nathalie Brohan, Jacqui Thomson and Gareth Walker took the F40, F50 and M60 awards. The Jimmy Sands Memorial Shield went to race winners Fraser and Catherine while the Jim Fitzpatrick Memorial Shield was presented to the leading male and female masters Iain and Nathalie. Both memorial shields are in honour of former club stalwarts Jimmy Sands and Jim Fitzpatrick.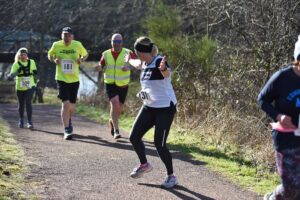 Cambuslang Harriers provided 40 of the 181 finishers. A number of them who had taken up running during lockdown were racing in the red and white vest for the first time in open competition and acquitted themselves well. There were also top 10 placings for and sub 34.36 times for Colin Reilly, Ian Hodge who set a pb, and Iain McDonald while Luke Biggart, Justin Carter, Michael Black and Mark King were inside 36 minutes. Chris Upson who was just outside 36 minutes headed several sub 40 minute performers – Mark Finbow, Mick O'Hagan, Lesley blackwood, newcomer Alan O'Donnell and Chris Smith, both of whom registered pbs. 17 other members crossed the line under 50 minutes in the following order – David Scott, Andrew Blain, Chris Campbell, Kirsty O 'Brien, Frank Hurley, Dan O'Connell, Ian McNair, Catriona Bain, Sarah Simpson with a 4 minutes pb, Steven Shakespeare, Alan Anderson, Julie Reid, Paula McCabe, Eilidh Kennedy, Gerry Duddy, Ana Bradley and Erica Christie. They were followed by Chris Paton, Sandy Eaglesham, Veronica Connochie, Suz Ross, Rachel Wardrope and Tina Campbell. Gary Lyon was unfortunate to suffer an injury while in a good position and had to hobble in.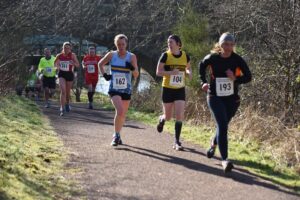 The 3K participants started 5 minutes after the 10K runners had departed. This event is a development race for younger athletes primarily from Cambuslang Harriers but it also attracted 3 runners from other clubs and one unattached athlete. M70 club member Billy Mitchell also joined in to continue his tradition of taking part in the shorter run. Sam McCarthy front ran from the outset to cross the finishing line in the good time of 10.18 while Chris Black and Gavin Kelly had a ding dong battle for the minor places with Chris prevailing by 1 second. Lewis Cook was followed by Gabriel Murphy who just edged out Olivia McNicol (11.34) whose time was only 8 seconds outside the female course record. U13 Euan Reid and U11 Euan Kennedy were also involved in a close finish being separated by a mere 1 second. Emma Ritchie and Lucy McGrandle were the next 2 Cambuslang athletes to finish followed by William Mackie, Liam O'Donnell, Liam McShane, Martha Fleming, Emma Kennedy, Flynn Osborne, Lauren Lucas, Megan O'Brien, Billy Mitchell, Zoe O'Donnell and Grace Ferry.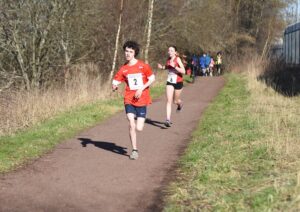 The club is indebted to the specialist running shop Achilles Heel of Great Western Road for their continued generous sponsorship, to Tunnock's for the donation of their delicious caramel wafers and to Barnie Gough for his course record sponsorship. A vote of thanks is also due to all club members and supporters, too numerous to mention, for their assistance before, during and after the event. Feedback from participants was highly complimentary about the course and the welcome they received with many saying they will take part next year – the only thing being we cannot guarantee the weather will be so kind.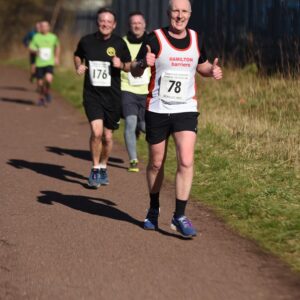 David Cooney
Join Cambuslang Harriers
Interested in joining one of Scotland's premier road and cross country running clubs as a member or a volunteer? We cater for runners of all abilities and offer regular training sessions based from our clubhouse in Cambuslang, we also have regular training on the track at the John Wright Sport Centre in East Kilbride, why not come along and join us?


All Content Copyright © 2007-2023, Cambuslang Harriers I Site design by No Lesser Panda