News Archive
Explore our archive of old news articles, click on one of the years below to see all the articles from that year.
Who are Cambuslang Harriers?
Cambuslang Harriers, since its formation in 1948, has become one of the premier cross country and road running clubs across all age groups in Scotland. We also have a very talented girls and ladies group who now regularly win major team honours.


Cross Country Competitions in the North of Scotland and in London for Cambuslang's Older and Younger Members.
delayed report from weekend of the 5th and 6th Feb.
The Scottish Masters Cross Country Championships which were postponed in 2021 due to Covid were staged this year in Aberdeen. The event had previously been held there in 2001 when Cambuslang's Colin Donnelly won the individual masters men's race and led bronze medalist Frankie Barton, Gerry Reid and Freddy Connor to team gold. Frank Hurley narrowly missed out on a medal that day finishing just behind Freddy. There was no M50 team championship until 2011.
The club made history last Saturday in the opening race when fielding its first ever W50 team in a Masters Scottish Cross Country Championship. The trio of Erica Christie, Bernie O'Neil and Jacqueline McLew made an impressive debut in taking 4th place behind Edinburgh, Perth Road Runners and Gala. Erica gained the individual W65 bronze medal.
The M40 to M64 athletes ran together but were split into the M40 and M50 plus age groups from the point of view of working out the M40 and M50 team prizes. Cambuslang's M40 team were the defending champions from 2020. Unfortunately none of the winning quartet of Kerry-Liam Wilson, Iain Reid, Ben Hukins and Kenny Campbell were able to compete. Gordon Robertson returning from illness was the first Cambuslang runner home in 7th place overall and 4th in the M40 category. The other 2 M40 finishers Justin Carter and Brian Douglas who were also on the comeback trail were 17th and 31st in the M45 category. It was good to have Brian competing again after being out of action for nearly 3 years. The club was unable to complete a team as Michael Barker and Jamie Reid, the other 2 M40 entrants, were forced to call off due to injury and illness. PH Racing Club, Central AC and Garscube secured the M40 team medals for the first time in their history. 2006 was the last time the harriers M40 team had been out of the medals.
The M50 team repeated their silver medal performance from 2020 again behind Perth Road Runners with Moray Road Runners 3rd. Stevie Wylie, the winner of the Scottish Maters M50 3000m Championship the previous week, took the M50 award when coming home 8th overall 42 seconds ahead of his nearest rival David Gardiner of Motherwell. He has been untouchable since moving up an age group which is not surprising given his athletics' pedigree as a senior and M40 runner. M55 Chris Upson also fresh from his age group Scottish 3000M title comfortably added the XC title to his long list of career medals. Mick O'Hagan was expected to close in the Cambuslang team and was on schedule to do so. However, he suffered badly from an upset tummy which allowed club treasurer Colin Feechan to take the vital 3rd place and ensure team silver for the club. It was a plucky run by Colin who has been plagued with back problems over the last 3 years. Club president Des Dickson followed closely on Colin's heels with Mick, club secretary Dave Thom and coach Iain Crawford next to cross the finishing line. Tony McCutcheon and Frank McGowan had made the long journey north to support the club but unfortunately Tony had to retire from the race with a calf injury while Frank's ongoing knee problem flared up during his warm up and he could not start.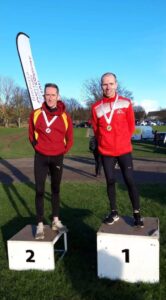 The next challenge facing our male and female masters will be the Scottish Road Relay Championships at Livingston on Saturday 26th March. On the previous occasion in 2019 the M40 sextet were first and the M50 quartet were 3rd. Hopefully a number of our injured athletes will be fit to compete by then.
While our older athletes were competing in the north of Scotland a number of our younger athletes were racing in London in the British Universities and Colleges Championships for their respective universities. Out of a large classy field of 268 competitors Chris McLew, Andrew Carey and Jamie MacKinnon were 70th, 80th and 84th with only 32 seconds separating them. In the even larger field of 512 for the B race Zak Povey ran probably his best race to date to occupy 27th spot with Keir Crawford completing the course in a respectable 203rd position.
David Cooney
Join Cambuslang Harriers
Interested in joining one of Scotland's premier road and cross country running clubs as a member or a volunteer? We cater for runners of all abilities and offer regular training sessions based from our clubhouse in Cambuslang, we also have regular training on the track at the John Wright Sport Centre in East Kilbride, why not come along and join us?


All Content Copyright © 2007-2023, Cambuslang Harriers I Site design by No Lesser Panda