News Archive
Explore our archive of old news articles, click on one of the years below to see all the articles from that year.
Who are Cambuslang Harriers?
Cambuslang Harriers, since its formation in 1948, has become one of the premier cross country and road running clubs across all age groups in Scotland. We also have a very talented girls and ladies group who now regularly win major team honours.


COUNTY, SCOTTISH AND UK MEDALS ACROSS THE CAMBUSLANG AGE GROUPS
Members of Cambuslang Harriers were recently prominent at the Lanarkshire Track Relay Championships, the Scottish 10K Track Championships and the British Masters Road Relay Championships.
The U17 boys team of Sean Friel, Aaron Grew and Michael Black took the 3 x 800M relay title at Wishaw while the U17 girls team of Susie McLaughlin, Lucy Storie and Chloe Burton captured silver. There were silver medals too for the male and female U15 teams thanks to Robbie Woods, Zac Povey and Lewis Roddis, Millie Nicholl, Eilidh Kennedy and Niamh Riggins. U15 Peggy Nan Rodger running in an incomplete B team showed good form to cross the line first in the opening leg. A number of male and female U13 athletes also made their track debut and enjoyed their experience. The event was well supported by our coaches and parents who helped to spur on our young athletes.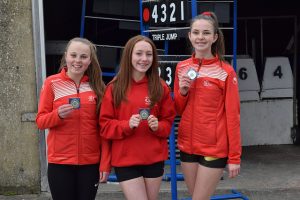 The senior and masters men picked up 1 gold, 2 silver and 2 bronze individual medals at the Scottish 10K held at Crown Point Glasgow. Kerry-Liam Wilson and Justin Carter took first and second place in the M45 category with Ben Hukins lifting M35 silver, Stuart Gibson the senior bronze and Chris Upson M50 bronze. Although not among the senior medals Fraser Stewart, Colin Reilly and Ritchie Carr all posted personal best times.
The club continued to be among the medals at the BMAF Road Relays held at Birmingham. This annual event WHICH attracts the top masters runners from across the UK is always fiercely competitive. The Cambuslang M45 quartet of Chris Upson, Justin Carter, Kerry-Liam Wilson and Stevie Wylie worked their way steadily through the field to snatch the lead on the final leg thus ensuring the British gold medals were heading back north of the border. The M55 trio of Frankie Barton, Brian Hughes and Alick Walkinshaw also combined well to secure bronze medals. Although M65 Frank Hurley did not have a team to back him up due to injuries Frank was able to run the first leg in his age category and came home first which gave him an individual silver medal for the 2nd fastest M65 time of the day. Team manager and club organiser for this event Dave Thom also found time to run the opening leg in the M55 age group. Club members Jacqueline Etherington finished 3rd on the opening leg for her English club Sunderland and Martin Williams won a M35 team bronze competing for Tipton. Cumbernauld AC who finished a creditable 10th in the M45 race was the only other Scottish club taking part in this prestigious British Championship Event.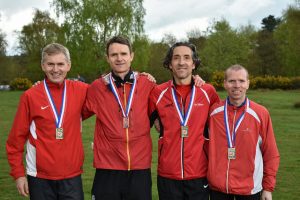 Coach and runner Simon Gold can now be called a Man for All Seasons having run back to back marathons on successive weekends at Boston in wintry conditions and then at London in hot sultry weather. Simon capped off his long distance exploits with a 53 mile Ultra Hill Run at the weekend. Club captain Iain Reid survived best of the Cambuslang runners in the London Marathon to finish in 52nd place and 7th M40 athlete in the excellent time for the conditions of 2 hours, 33 minutes and 14 seconds.
At the 3K on Glasgow Green Kevan Harvey took first place and Peter Fleming now resident in Colorado Springs finished first M50. At his peak Peter ran the spectacular times of 2.13.33 and 62.52 for the marathon and half marathon. Kirsty O'Brien finished 3rd in the Stirling Half Marathon while posting a personal best into the bargain. There was success too for the club on the hills with Iain MacCorquodale winning the Whangie Whizz Race and Colin Donnelly taking the masters prize at the Normans Law Race in Fife. Ryan Thomson who is currently on a scholarship at the Texas A & M University has already clocked this year 14.44 for the 5K.
David Cooney
Join Cambuslang Harriers
Interested in joining one of Scotland's premier road and cross country running clubs as a member or a volunteer? We cater for runners of all abilities and offer regular training sessions based from our clubhouse in Cambuslang, we also have regular training on the track at the John Wright Sport Centre in East Kilbride, why not come along and join us?


All Content Copyright © 2007-2023, Cambuslang Harriers I Site design by No Lesser Panda