News Archive
Explore our archive of old news articles, click on one of the years below to see all the articles from that year.
Who are Cambuslang Harriers?
Cambuslang Harriers, since its formation in 1948, has become one of the premier cross country and road running clubs across all age groups in Scotland. We also have a very talented girls and ladies group who now regularly win major team honours.


CAMBUSLANG HARRIERS VETERAN WOMEN AND MEN PUT ON A MASTERFUL DISPLAY AT THE WEST DISTRICT CROSS COUNTRY RELAYS
Cambuslang Harriers were well represented across the age groups at the West District Cross Country Relay Championships held at the Beach Park Irvine. Conditions on the day were very wet which made some of the steep downhill sections treacherous with several athletes taking a tumble. The young athlete female and male teams were made up of 3 runners in the under 13/15/17 age groups while the ladies teams comprised of 3 athletes and 4 for the men.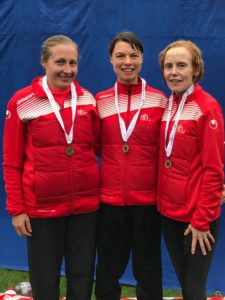 Among the many fine Cambuslang performances the masters men and women over 40 years of age produced a golden team double. On the opening leg Bernie O'Neil put the women in a good position for Jacqueline Etherington, with the third fastest overall time of the day, to move the harriers into third spot with Jennifer Reid timing her run well to overhaul her Kilbarchan and Giffnock North rivals. The Cambuslang male quartet of Charlie Thomson, Justin Carter, Jamie Reid and Ben Hukins were comfortable winners ahead of Garscube and Cumbernauld. Ben was the fastest master overall, Jamie and Juistin were 5th and 6th fastest and Charlie on the comeback trail recorded the fastest time by a male 50 year old athlete.
The senior ladies team of U20 Amy Craig, Lesley McCardle and Paula McCabe finished a creditable 24th from 46 competing teams. In the men's event there was a ding dong battle throughout between the A team of Kevan Harvey, Gavin Smith, Stuart Gibson and Al Campbell against the B team of Jamie MacKinnon, Ryan Thomson, Craig Jardine and Fraser Stuart. The A squad had the advantage on legs 1 and 3 with the B team to the fore on legs 2 and ultimately 4. However, in spite of their best efforts Cambuslang were out of the medals in 4th and 6th positions behind Shettleston, Inverclyde and Kilbarchan. Nevertheless, there were a number of excellent times recorded such as Ryan now home from an athletics scholarship in the USA finishing joint 6th fastest and Kevan joint 10th out of 365 competitors along with Gavin and Jamie being the 4th and 7th quickest under 20 athletes. First year U20 Drew Pollock ensured a good start for the C team and with support from Connor McRae, David Savage and Gordon Robertson consolidated 14th spot from 85 finishing teams. There was also a fine display in 41st place by the masters B quartet of Iain Nichol, Dave Thom, Chris Upson and Mick O'Hagan while the D team of Andrew Carey, Eamon Carr , Dan O'Connell and Eddie Carr finished not too far behind them. John Kelly and club coach Iain Crawford managed a run out in an incomplete team.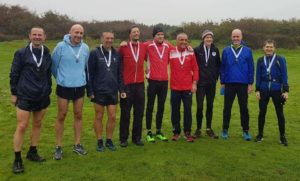 The female young athletes fared well in spite of a few absences due to injury and school holidays. The A trio of Mya Carmichael, Niamh Riggins and Susie McLaughlin combined well to come home 9th out of 46 competing teams. In the B team Eva Ritchie, Eilidh Kennedy and Shona Carey achieved a respectable 18th place while the C team was made up of Lucy McGrandle, Morvern Crawford and Chloe Burton with under 13 Francesca Fairweather doing an opening leg. Individually Shona and Niamh made the top 10 fastest U15 times in 6th and 9th place and likewise Susie with the 8th quickest U17 time.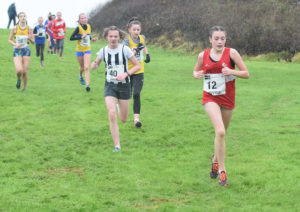 The male young athletes finished 5 complete teams and 3 incomplete ones. The A trio of Sam McCarthy, Zak Povey and Chris McLew finished strongly in 7th place out of 40 finishing teams while the B squad of Brodie McDonald, Lewis Roddis and Brodie Aitken was one place behind. Next home was the C team in 15th place consisting of Jay Gallagher, Robbie Woods and Michael Black followed by the 20th placed D team of Reece Duncan, Fearghus MacGregor and debutant Jack MacKinnon. The E team crossed the line in 30th position thanks to Barry Masterton, Stuart Millard and Aaron Grew. Ben MacDougall and Joa Fairweather covered legs 1 and 2 and Chris Black and Jamie Kennedy ran the opening leg for the youngest age group. Again members of Cambuslang recorded top 10 individual times for their respective age groups with under 17 Chris being 2nd fastest and Brodie 8th while Robbie, Zak and Stuart were 5th, 6th and 10th in the under 15 category.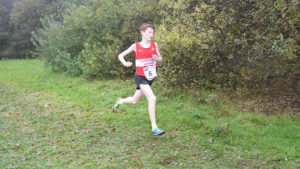 All 61 club participants deserve credit for competing in the miserably wet conditions especially some of the youngest athletes who were getting their first taste of cross country running. The club is indebted also to the many club coaches, supporters and parents who willingly gave of their time to encourage our athletes. Thanks are also due to Robert Anderson for transporting the large club tent and to Colin Stephen who captured the first 3 races before his camera became waterlogged. A vote of thanks is also due to the West District Officials and to members of the North Ayrshire Club for organising the event.
David Cooney
Join Cambuslang Harriers
Interested in joining one of Scotland's premier road and cross country running clubs as a member or a volunteer? We cater for runners of all abilities and offer regular training sessions based from our clubhouse in Cambuslang, we also have regular training on the track at the John Wright Sport Centre in East Kilbride, why not come along and join us?


All Content Copyright © 2007-2023, Cambuslang Harriers I Site design by No Lesser Panda