News Archive
Explore our archive of old news articles, click on one of the years below to see all the articles from that year.
Who are Cambuslang Harriers?
Cambuslang Harriers, since its formation in 1948, has become one of the premier cross country and road running clubs across all age groups in Scotland. We also have a very talented girls and ladies group who now regularly win major team honours.


A SMALL STEP ON THE SLOW ROAD TO NORMALITY
In the absence of head-to-head competition due to Covid restrictions the Scottish Students Cross Country Championships took the form of a virtual 8K event. 3 Cambuslang Harriers signed up for the competition with the U20 duo of Andrew Carey and Keir Crawford representing Glasgow University and Kieran Cooper St Andrews University. Andrew who has been progressively increasing his weekly mileage surpassed himself to record the excellent time of 25.37 which gave him individual silver along with team gold. Kieran achieved 6th place with his time of 26.44 while Keir (29.56) was 10th. There was an added bonus for Keir when he picked up team bronze for Glasgow's B squad.
In line with Scottish Athletics Covid 19 protocols Cambuslang Harriers staged another 5K time trial on Saturday 10th April. The well established pre club run registration for track and trace purposes was adhered to and to facilitate social distancing 3 separate smaller groups set off at different starting times. The Shawfield route was again used which allows athletes to compare their previous times and a number of members duly set personal bests. 30 athletes from under 17 level to masters participated in cold but dry and calm conditions.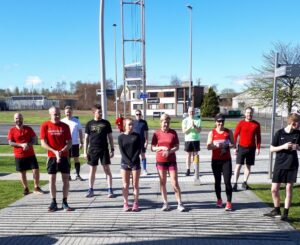 In the consolidated results from the 3 groups Scottish Cross Country Internationalist Gavin Smith confirmed his good form by setting a new course record of 14.48 which bettered his previous best by 6 seconds. There was a welcome comeback outing from Kevan Harvey who has been struggling with injuries over the last 18 months. Kevan can be happy with his 15.25 performance. Similarly, club captain Ritchie Carr can be well satisfied with his course pb clocking of 15.47, a 24 seconds improvement from his Xmas handicap run. Under 17 Zak Povey was rewarded for his consistent training during lockdown with a new age record and pb of 16.04 which slashed 38 seconds off his previous time. U20s Aaron Grew and Ruairidh MacGregor had a close tussle completing the course in 16.22 and 16.29 respectively. Aaron was only 3 seconds outside his pb while Ruairidh recorded a 43 seconds improvement. Ian Hodge who only joined the club during lockdown continued his good progress. On his 3 previous runs over the Shawfield trail he has registered 16.59, 16.42, 16.36 and now 16.32. Such is Ian's enthusiasm he managed to persuade his understanding wife that their house flitting should take place on the Sunday rather than the Saturday. Another runner showing a welcome return to form after a lengthy injury was U17 Lewis Roddis. His 17.00 minutes dead was 73 seconds quicker than his Xmas stint. Iain McDonald's pb time of 17.02 brought him one second closer to a sub 17 performance while M50 Mark King (17.25) reduced his pb by 19 seconds. Callum Ferguson delivered an excellent debut time of 17.35. M45 Iain Nicholl's 17.38 compared to his 19.26 Xmas time stood out as one of the most eye-catching improvements. Fellow M45 Kenny Finlayson (18.29) was also rewarded with a 19 seconds pb. Mark Finbow and M45 Brian Campbell were course debutants in 18.32 and 18.48. Eve Mackinnon also making her initial appearance on this course recorded the fastest individual time on the day by a lady and also set a course record of 18.55. Club secretary Dave Thom although slightly down on his previous time was the first M60 in a time of exactly 19 minutes. Phil Burns and Gary Millar both dipped under 20 minutes by 28 and 15 seconds respectively while Scottish M65 Champion Frank Hurley was only 6 seconds over that mark. Newcomer Chris Campbell's personal best time of 20.09 clearly demonstrated what can be achieved by some structured consistent training. His previous 3 times have been 22.21, 21.58 and 21.00. Iain McNair and M50 Dan O'Connell shared the same time of 20.25. Under 15 Jay Gallacher made a good debut at this distance to dip under 21 minutes by 3 seconds. Kirsty O'Brien (21.08) took another step forward on her recovery from injury with an 8 seconds improvement on her Xmas run. Under 17 Eilidh Kennedy can be pleased with her strong 21.29 outing in her first attempt at this distance. In the battle of the coaches Simon Gold (21.38) just pipped Lynn Angely by 1 second. Newcomers Stephen Leonard (22.38) and Chris Paton (24.38) stuck to their task well and will have benefitted from their experience.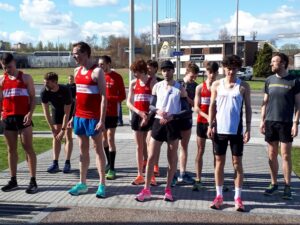 A special thanks is due to Ritchie Carr for organising the time trial and to Mike Johnston for taking charge of the timekeeping and results with assistance on the day from Fiona Pollock, Eddie Carr, Des Dickson and David Cooney
Earlier in the morning 4 young athletes took part in a 3K time trial organised by coaches Simon and Lynn. Gavin Kelly and Chris Black broke the 12 minutes barrier with times of 11.26 and 11.57 respectively while Euan Reid ran 14.52 and Dean Edmunds sliced 16 seconds off his pb with his time of 16.27.
David Cooney
Join Cambuslang Harriers
Interested in joining one of Scotland's premier road and cross country running clubs as a member or a volunteer? We cater for runners of all abilities and offer regular training sessions based from our clubhouse in Cambuslang, we also have regular training on the track at the John Wright Sport Centre in East Kilbride, why not come along and join us?


All Content Copyright © 2007-2023, Cambuslang Harriers I Site design by No Lesser Panda