News Archive
Explore our archive of old news articles, click on one of the years below to see all the articles from that year.
Who are Cambuslang Harriers?
Cambuslang Harriers, since its formation in 1948, has become one of the premier cross country and road running clubs across all age groups in Scotland. We also have a very talented girls and ladies group who now regularly win major team honours.


A GOOD DAY OUT AT LIVINGSTON ON A WET SUNDAY AFTERNOON
All's well that ends well so the saying goes and this turned out to be the case for Ronhill Cambuslang Harriers at the Scottish National Road Relays held at Livingston on Sunday. In the week leading up to the event there was an unprecedented number of call offs due to injuries and illness. However, our athletes co-operated well with the numerous changes to the teams which were made even up to the last minute. On the day we were delighted to retain our over 40 and 50 vet team titles and to win team bronze in the junior/senior event.
In addition, our 2 competing ladies were in 4th position at the halfway point in the race.
Our over 50 team of Dave Thom, Paul Thompson, Chris Upson and Colin Feechan led their age group from start to finish which was not surprising as Dave and Chris recorded the 2 fastest short legs of the day and Paul and Colin did likewise over the long stage. This was our 3rd successive victory in the 3 year history of the race and Dave and Colin have featured in all 3 winning teams. It was good to see former member Michael Freshour bring Bellahouston Harriers home in second place with Central AC 3rd. May I suggest that Scottish Athletics award silver and bronze medals to encourage more clubs to enter teams in this age group as is the case in the Scottish Cross Country Relays.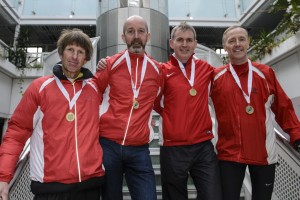 M50 winning Team
Our over 40 sextet of Jamie Reid, Kerry-Liam Wilson, Craig Harrow, Greg Hastie, Mick O'Hagan and Stevie Wylie emphatically secured our 5th consecutive victory. Jamie who is getting back to fitness after bouts of recurring cold/flu over the last few months put us into 2nd spot which turned out to be the 2nd fastest vet time overall. Once Kerry – Liam with the 3rd fastest vet time of the day put us in the driving seat the 4 remaining runners added to our lead. Craig although a regular at club training nights for the last few years had not competed for over 25 years. However, he confirmed his training form in a race situation to extend our lead. Greg and Mick put in their customary reliable performances leaving the glory leg to Stevie. Stevie continued his comeback from a long injury spell to record the 2nd overall fastest vet O40 time only 5 seconds behind David Miller's clocking. Well done to Kirkintilloch Olympians and Shettleston in finishing 2nd and 3rd. Our vets B team of Daniel O'Connell, James Healy, Tony McCutcheon, Alick Walkinshaw, Des Dickson and Brian Campbell finished a creditable 5th.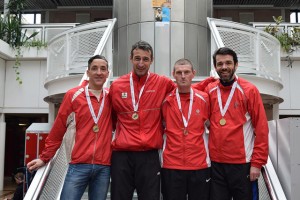 4 of the winning M40 sextet
The junior/senior race developed into a 2 horse battle between Kilbarchan and Central AC with the latter prevailing and securing their first team victory in this event. The fight for the bronze medal was between ourselves and Corstorphine as we gradually reeled them inbefore overtaking them on leg 4. Al Campbell set a course pb in bringing us home in 4th place and 8th fastest overall with Robert Gilroy on a very competitive leg dropping back to 7th. However, under 20 Ryan Thomson in his race debut put us back into 4th spot with the 5th fastest time of the day.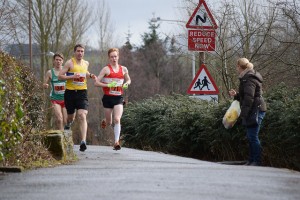 CarolAnne giving Ryan some encoragement
Stuart Gibson with the 11th fastest clocking overall overhauled
Corstorphine's Keith Hood to give outgoing runner Bobby Bristow a narrow lead of 5
seconds over former member Donald Macauley.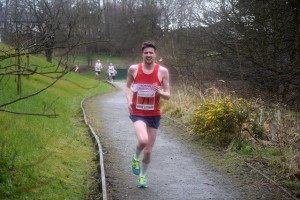 Bobby with a course pb and 10th fastest of the day justified his late promotion to the first team by extending our lead to 14 seconds.
However, 3rd place was not yet secured as Kyle McLellan faced a fierce counter attack from
Corstorphine's Howell Craske.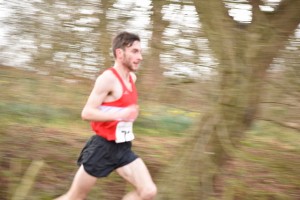 Kyle rose to the challenge starting out strongly and extending our lead to 78 seconds at the finish. In so doing Kyle recorded the 12th fastest time overall.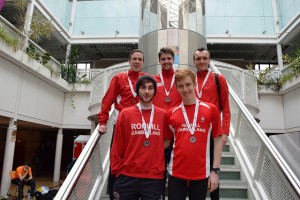 5 of the 3rd placed junior/senior team
Due to call offs the B team was a mixture of young and old, experienced and inexperienced athletes. Under 20 athlete Ross Stephen showed that he was recovering his form to hand over to George Pettit in 20th position which George maintained. The experienced Ben Hukins recovering from last month's appendix operation gained 4 places and promising novice runner Alasdair Campbell moved us up to 14th. Veteran but recently new runners Iain Crawford and Eddie Carr were put in at the deep end to manfully complete the team which in the end finished only 22 seconds behind our vets B team. 3 others ran in a 6th team. Under 20 800m specialist John Ball kicked the team off with new members John McLuskey and David Stirling following on.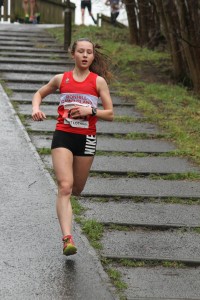 First year under 20 Eve MacKinnon got the club off to a good start in finishing 5th which was the 7th fastest time of the day. Katie Bristow took up the challenge and pulled us up to 4th place with the 13th fastest time overall. Unfortunately our participation in the race ended at this point.
Well done to our 33 runners who took part and generated excellent team spirit and a big thanks to our coaches, other club members, parents and friends who supported and encouraged our athletes. Thanks also to Colin Stephen our race photographer. Last but not least a special thanks to Alan Ramage who volunteered his services as a steward. I am not sure whether he managed to fit in taking some photos as well.
It was pleasing to see Wegene Tafese returning to racing with a fine victory over a strong field at the Birnam Hill Race. Club captain Iain MacCorquodale was last years winner.
David Cooney
photos by Bobby Gavin, Alan Ramage and Colin Stephen
Join Cambuslang Harriers
Interested in joining one of Scotland's premier road and cross country running clubs as a member or a volunteer? We cater for runners of all abilities and offer regular training sessions based from our clubhouse in Cambuslang, we also have regular training on the track at the John Wright Sport Centre in East Kilbride, why not come along and join us?


All Content Copyright © 2007-2023, Cambuslang Harriers I Site design by No Lesser Panda