News Archive
Explore our archive of old news articles, click on one of the years below to see all the articles from that year.
Who are Cambuslang Harriers?
Cambuslang Harriers, since its formation in 1948, has become one of the premier cross country and road running clubs across all age groups in Scotland. We also have a very talented girls and ladies group who now regularly win major team honours.


A Double Victory For Cambuslang Harriers Masters Teams
Cambuslang Harriers Masters Men and Women had a very successful day at the LSK sponsored SVHC Masters Road Relays held round Strathclyde Park on Sunday 26th January 2020. The M35+ and M50+ teams won their respective age groups while the ladies achieved their best ever position in finishing 5th. The Cambuslang younger male age group has an impressive record in this event with 8 victories in the last 9 years while their older counterparts have 5 wins and 4 runners up spots to their credit. In this competition the men and women race together round the 6km circuit of Strathclyde Park albeit the men field 4 runners and the ladies 3.
On the opening lap East Kilbride's Grant Baillie forced the pace with Ritchie Carr of Cambuslang and Leon Johnson of Edinburgh AC in tow. Grant maintained his fast pace to come home ahead of Ritchie in a time of 18.18, only 2 seconds outside Robert Gilroy's course record. Ritchie's clocking of 18.44, 25 seconds ahead of his Edinburgh rival, was to be the second fastest time of the day. Graeme Gallie (22.18) in his relay debut helped the Cambuslang M35 B team to 26th spot. Ritchie and Graeme handed over respectively to Gordon Robertson and Justin Carter. Gordon took Cambuslang into the lead with the third fastest time of the day (18.55) and extended the club's lead over second placed Edinburgh. This was Gordon's last race as a M35 athlete as he turns 40 at the end of January. Justin's useful time of 21.13 gained 10 places for the B squad. Course record holder Robert Gilroy extended Cambuslang's lead over Edinburgh. His 20.30 recording was a modest time by his own high standards but this was an excellent performance by him considering he has been injured for well over a year and is only easing himself back into competition. Kenny Finlayson maintained 16th position for the B team with a solid time of 22.19. Colin Reilly with the fourth fastest time of the day (19.05) was given the glory leg to run and did not disappoint by stretching Cambuslang's lead over Edinburgh to 80 seconds with Motherwell's David Gardiner overhauling PH Racing club in the final half mile. Tony McCutcheon although dropping one place had the satisfaction of dipping under 22 minutes by one second to ensure that Cambuslang were the second B team to cross the line. Robert deserves a pat in the back for being a counter in 7 of the 8 victories for the club.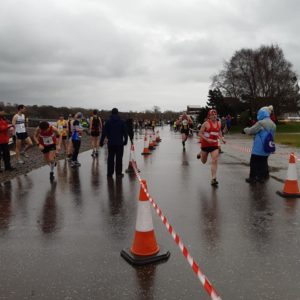 The pattern of the M50+ race was similar to the M35+ one with Cambuslang finishing second on the opening leg but then taking the lead on leg 2 and holding that lead to the finish. Dave Thom's strong performance of 21.35 was only 2 seconds behind Central AC which gave Paul Thompson (22.07) the opportunity to move into pole position with a 4 second lead over Cumbernauld after the 2nd leg. Mick O'Hagan (22.12) stretched that vital lead to 13 seconds over last year's winners Cumbernauld. Chris Upson (21.31) who can be relied upon in a sprint finish ensured a 14 seconds team victory over our pursuers after the final leg. Not surprisingly Chris was tired at the end having done a hill race the previous day. It is worth noting that Dave, Paul and Chris have been team stalwarts for the M50s in recent years as has been Colin Feechan who was forced to watch from the sidelines due to a persistent injury. Dan O'Connell (24.14) who is also a regular competitor in this event and David Marshall (22.15) were in an incomplete B team. It is good to see David on the comeback trail having had to give up the sport in 2005 due to calf problems.
Duathlete and triathlete Kirsty O' Brien who is no stranger to winning medals at Scottish, UK and even European level led off the ladies team and acquitted herself well to finish in 7th position in a time of 24.31 behind Giffnock North who in the end ran out convincing winners. Fellow triathlete Debbie Comer took a break from her triathlon training to gain 2 places with her time of 25.31. It had been touch and go whether Bernie O'Neil would make the starting line due to injury. However, having received some physio treatment on the Friday, she decided to give it a go. Her plan was to run steadily and hopefully get round in one piece. She looked to have achieved her goal until the last 600 metres when her injury flared up and she was forced to hobble in. Nevertheless in true grit style she made it to the finishing line and secured an excellent 5th place for the ladies. Her time of 26.13 was the 4th fastest time by a W50.
On the previous day Cambuslang runners fared well in parkruns. Ryan Thomson (15.22) and Gavin Smith (16.10) were first finishers at Springburn and Strathclyde Park while Iain McDonald was runner up at Tollcross where Paul Kernohan and Frank Hurley were the first over 40 and over 60 competitors. Dave Thom was the first over 50 at Victoria Park (18:16) and Carole Setchell (21.32) had her first recent outing at Strathclyde Park.
The club was also represented in the Scottish Senior 1,500M Indoors Championships at the Emirates. Both U20 Chris McLew and Jamie MacKinnon advanced to the final with times of 4.05 and 4.06 but in spite of a pb of 4.09 Lawrence Heyes did not qualify. In the final Jamie ran a creditable 4.04 for 4th spot with Chris 8th.
David Cooney
Join Cambuslang Harriers
Interested in joining one of Scotland's premier road and cross country running clubs as a member or a volunteer? We cater for runners of all abilities and offer regular training sessions based from our clubhouse in Cambuslang, we also have regular training on the track at the John Wright Sport Centre in East Kilbride, why not come along and join us?


All Content Copyright © 2007-2023, Cambuslang Harriers I Site design by No Lesser Panda