Cambuslang Harriers won team silver in men's event while Robert Gilroy and Erica Christie lifted individual gold in the M40 and F60 age categories and Iain Reid took the M40 silver medal. The U17 men just lost out on team bronze on count back to Aberdeen AC.
In the opening 2K event the U15 girls team of Niamh Riggins, Shona Carey and Susie McLaughlin packed well to finish 8th with Chloe Burton backing up the trio. The U15 boys team of Sean Friel, Michael Black and Arlo Van de Peer competed well to finish 6th. The other non scorers for Cambuslang were Aaron Grew, Zak Povey, Robbie Woods, Mark Cassidy and Sean Stack. Holly Brock and Ruth Kelly represented the U17 girls but there was no 3rd runner to complete a team. The U17 squad of Drew Pollock, Ryan Donnelly and Christopher McLew had to settle for 4th place although the team had the same number of points as Aberdeen. In the event of a tie the club which has its last counter home before its rival gains the medal. Keir Crawford and Andrew Carey gained useful experience in competing in such a highly competitive race.
In the ladies 4K race in which the winner Laura Muir showed her world class the Cambuslang quartet of Alex Lamond, Kirsty O'Brien, Erica Christie and Lesley McArdle finished a respectable 10th team. Erica's winning margin in her age category was an impressive 48 seconds. The final race of the day attracted over 400 runners with Cambuslang supplying 20 competitors. GB Internationalist and 2014 Scottish Commonwealth Games Representative Grant Sheldon, who is getting back into full training after recently holidaying in Australia and China, led U20 Gavin Smith, Craig Jardine and Alistair Campbell to team silver behind Central AC with Inverclyde AC in the bronze medal position. First year U20 Gavin performed strongly and was only 5 seconds adrift of a bronze medal in his age category. Such was the close packing that only 33 seconds covered the club's 4 counters and spare a thought for our other A Campbell , Alasdair, who lost out on a team medal by a mere 4 seconds. All 5 runners ran under the 13 minute mark. A further 8 red and white vests crossed the line comfortably in under 14 minutes namely Robert Gilroy, club captain Iain Reid, Kevan Harvey, U20 Jamie Mackinnon, Fraser Stewart, U20 Paul Morrison, Ritchie Carr and M40 Justin Carter. U20 Eamon Carr led home the more mature sextet of Alick Walkinshaw, Iain Nicholl, John Paul Murphy, Dan O'Connell, Des Dickson and John Kelly.

Well done to all who represented the club and many thanks to our coaches, officials, parents and supporters for their invaluable help.
Both Robert and Alasdair were back in racing mode the following day in the Jimmy Irvine 10K Road Race with Robert and Alasdair taking first and third place.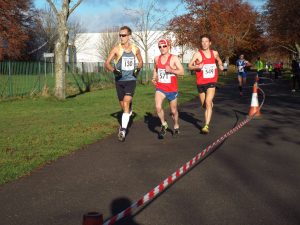 Both displayed good powers of recovery after a hard race the day before. Robert had especially prepared for the event by only having had one 14 inch pizza on the Saturday evening and thinking of the two pizzas awaiting him at home after the 10K no doubt spurred him on to victory. Chris Upson won the M50 category while Scott Hunter, Eddie Carr and John McCluskey were the other Cambuslang representatives.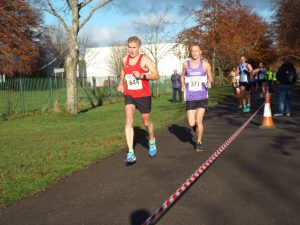 Stuart Gibson was also the first runner home in Saturday's Pollock Parkrun.
David Cooney
Photos Kenny Philips