News Archive
Explore our archive of old news articles, click on one of the years below to see all the articles from that year.
Who are Cambuslang Harriers?
Cambuslang Harriers, since its formation in 1948, has become one of the premier cross country and road running clubs across all age groups in Scotland. We also have a very talented girls and ladies group who now regularly win major team honours.


M40+ and M50+ Masters show the way at the Scottish Cross Country Relay Championships
The M40+ quartet of Kenny Campbell, Frank McGowan, Kerry-Liam Wilson and Jamie Reid and the M50+ trio of Chris Upson, Paul Thompson and Colin Feechan were worthy winners at the Scottish Cross Country Relay Champs at Cumbernauld on Saturday 24th October. With Jamie, Kerry-Liam and Kenny recording the 3 fastest masters' times and Frank 6th fastest it was not surprising that this was the club's 5th consecutive victory in this national championship. Also thanks to Colin, Chris and Paul recording the 2nd, 3rd and 10th fastest times in their age group the M50+s regained their age group title. Indeed, the depth of the club's older runners saw them finish their B team of Tony McCutcheon, Brian Campbell, Justin Carter and Mick O'Hagan in 5th and their C team of Dan O'Connell, Craig Harrow, Dave Thom and Scott Hunter in 11th place from 20 competing teams.
The under 20 and senior men team of Stuart Gibson, Ryan Thomson, Robert Gilroy and Kyle McLellan put in a sterling performance to finish just outside of the medals in 4th place. Ryan was rewarded with the 3rd fastest time by an under 20 and Kyle was the 11th fastest senior. The B team in 14th position was well served by two other fast improving under 20s Ross Stephen and Craig Jardine and ably supported by Willie MacRury who made the long round trip from Stornoway and Gordon Robertson. The C squad of Alasdair Campbell, Scott Sommerville, Ian Lafferty and George Pettit finished a creditable 35th from 88 competing teams.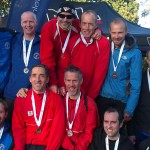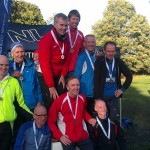 Our ladies team had to do without the services of 3 Scottish internationalists. Sarah Benson is now living in England, Katie Bristow is on a year's athletics scholarship in the USA and Eve MacKinnon now at Edinburgh University was representing her university team. In spite of this our ladies team of Alex Lamond, Kirsty Anderson and Caitie Gordon-Phillips finished a very creditable 21st from 52 competing teams. It was good to see Caitie running again after a long injury spell.
Our young athlete male A team comprising an U13, U15 and U17 acquitted itself well. Sean Friel, Drew Pollock and Struan Paton with the 5th fastest time of the day combined well to finish 7th from 90 teams. The B team of Euan McLew, Ryan Stephen, and Gavin Smith were 25th followed by the C team of Aaron Grew, Andrew Arhurs and Lewis Tracey and the D squad of Michael Black, Chris McLew who was our fastest U15 and Eamon Carr. Robbie Woods and Ruairidh MacGregor ran in an incomplete E team. The same format was used in the young female athlete event and Niamh Riggins, Lauren McEwan and Christie Dalgleish put in a solid performance in 22nd place from 77 teams. The B team of Chloe Burton, Carla Fay and Katie Moss secured 58th spot and Demi Scott and Hannah Lang were in an incomplete C team.
Congratulations to all our runners and many thanks to our officials, coaches, parents and supporters.
David Cooney
Join Cambuslang Harriers
Interested in joining one of Scotland's premier road and cross country running clubs as a member or a volunteer? We cater for runners of all abilities and offer regular training sessions based from our clubhouse in Cambuslang, we also have regular training on the track at the John Wright Sport Centre in East Kilbride, why not come along and join us?


All Content Copyright © 2007-2023, Cambuslang Harriers I Site design by No Lesser Panda