News Archive
Explore our archive of old news articles, click on one of the years below to see all the articles from that year.
Who are Cambuslang Harriers?
Cambuslang Harriers, since its formation in 1948, has become one of the premier cross country and road running clubs across all age groups in Scotland. We also have a very talented girls and ladies group who now regularly win major team honours.


Dave C's report on the National XC Relays
The National XC Relays were held at Cumbernauld on Saturday 28th Nov. on a dry but cold afternoon over a testing undulating course.  The vets O35 and O50 teams comfortably won their respective team titles while the junior/senior team were just outside the medals in 4th place.  History was made when the club fielded a team for the first time in the junior/senior female event and the trio finished a very creditable 8th.  Our young male athletes went one better in 7th place with their female equivalents in 15th spot.  It was encouraging to finish 7 senior male and almost 6 male young athlete teams although we only completed one female young athlete team.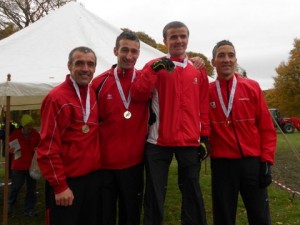 The vets O35 team got off to an excellent start through Charlie Thomson (13.55) in second veteran place behind the redoubtable Bobby Quinn and successive legs by Robert Gilroy (13.57), Greg Hastie (14.31) and Kerry Wilson (13.58) consolidated their premier position to achieve a winning margin of 92 seconds and finish in 12th overall team.  The club successfully retained its title and now have 8 gold medals and 1 silver for this event.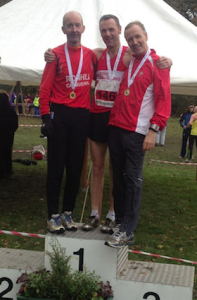 In the inaugural 3 man O50 event Dave Thom threw down the gauntlet on the first leg to record the fastest time of 14.58 in his age category – not bad for a man who professes to dislike the country.  Colin Feechan extended this lead with a 15.31 stint and Iain Campbell anchored the team to a resounding 137 seconds victory with the second fastest age clocking which was only 1 second slower than Dave.
The junior/senior male quartet of Stuart Gibson (13.11), Iain MacCorquodale (13.42), Wegene Tafese (13.12) and Jack Hamilton (13.41) made a valiant effort to get in amongst the medals but remained in 4th place throughout only 25 seconds away from the bronze medal.  Stuart and Wegene were 8th and 9th fastest of the day.  This was one of the most competitive team races in this event in recent years and all credit must go to the 4 teams involved in the struggle for supremacy – Central AC, VP/City of Glasgow, Corstorphine and ourselves.   Our B team of Johny MacNamara (14.17), debutant Ben Hukins (13.51), Davy Munro 13.58) and Andrew MacKenzie (15.10) came in one place behind our O35 vets.  This meant that we were the first club in the competition to complete 3 teams.
In the junior/senior ladies' race Alex Lamond surpassed all expectations to cross the line in 4th place with a time of 15.59 which gave her the 2nd fastest time of the day by an under 20 athlete.  Katie Bristow (17.04 and 4th fastest under 20) and triathlete Kirsty Anderson (17.47) combined well to bring the club home in a worthy 8th place.  Kirsty had only returned on the Thursday from New Zealand where she had finished 4th in the World Aquathon Championship and 11th and first European in the World Trathlon Championship.  Alex and Katie, our 2 under 20 girls can look forward to the forthcoming district and national championships where they will be joined by Mhairi Brown and Sarah Millar.
The young male team of under 13 Struan Paton (9.53) , under 15 Sean Reilly (9.51) and under 17 Ryan Thomson (8.45) recorded a commendable 7 place with both Struan and Ryan 5th fastest in their different age groups.  The under 13 boys certainly made their presence felt on the opening leg with Struan strongly supported by Drew Pollock 10th, Luke Reilly 11th and Ryan Stephen 13th.  Like the under 20 women this augurs well for the under 13 squad who also have Leodhais MacPherson to call on in the future district and national championships.
The female young athlete team of Olivia Mullholland (11.32), Niamh Brown (11.02) and Eve MacKinnon (11.23 ) recorded a solid 15th position with Niamh being 12th fastest in her age category.
Congratulations to our medallists and to all our competing athletes and to the coaches, parents and non competing athletes who added their support on the day.
The next major events for the club in November are the Scottish 4K XC Championships at Bellahouston on 11 November where there will also be development races for the young athletes and the McCain XC Challenge event at Liverpool on the 24th November.
David
One response to "Dave C's report on the National XC Relays"
Join Cambuslang Harriers
Interested in joining one of Scotland's premier road and cross country running clubs as a member or a volunteer? We cater for runners of all abilities and offer regular training sessions based from our clubhouse in Cambuslang, we also have regular training on the track at the John Wright Sport Centre in East Kilbride, why not come along and join us?


All Content Copyright © 2007-2023, Cambuslang Harriers I Site design by No Lesser Panda