News Archive
Explore our archive of old news articles, click on one of the years below to see all the articles from that year.
Who are Cambuslang Harriers?
Cambuslang Harriers, since its formation in 1948, has become one of the premier cross country and road running clubs across all age groups in Scotland. We also have a very talented girls and ladies group who now regularly win major team honours.


ANOTHER SUCCESSFUL SCOTTISH CROSS COUNTRY CHAMPIONSHIP FOR CAMBUSLANG HARRIERS
Cambuslang Harriers had yet again a very successful Scottish Cross Country Championships. Team silver medals in the under 15 boys, under 20 men and senior men races with bronze medals for the under 17 males saw the harriers regain the AT Mays Trophy which is awarded to the male club with the best overall scoring over the 5 events. Cambuslang has won this prestigious trophy 7 times in the last 8 years and indeed on 23 out of a possible 31 occasions. This speaks volumes for the club runners, coaches, officials, parents and supporters. The ladies also played their part with Moira Stewart finishing a good 2nd to UK, Commonwealth and Olympic Internationalist Steph Twell in the senior ladies event with under 13 girl Abbie McClue achieving 10th place and first West of Scotland athlete and the under 15 girls and under 17 women gaining 5th and 6th spot in their team competitions.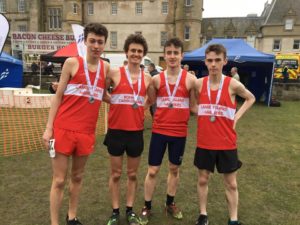 The U13 girls kicked off the championships with the quartet of Abbie, Eva Ritchie, Lucy McGrandle and Francesca Fairweather finishing 15th team. Their U13 male counterparts of Sam McCarthy, Brodie McDonald, Reece Duncan and Hamish Gardner were placed 16th team. Chris Black and Jay Gallacher provided backup. The under 15 girls thanks to Shona Carey, Niamh Riggins, Peggy-Nan Rodgers and Eilidh Kennedy were a creditable 5th. Good team packing by Robbie Woods, Lewis Roddis, Joa Fairweather and Zak Povey gave the quartet a silver podium placing. Fearghus MacGregor and Mark Cassidy were also well placed.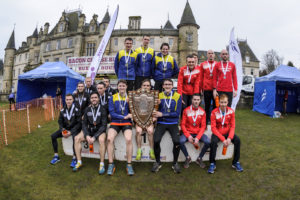 Susie McLaughlin in 16th spot acquitted herself well in the ladies under 17 event to lead Holly Brock and Rachel Wardrobe to 6th place. In spite of losing the injured under 17 Ruairidh MacGregor his team mates Chris McLew, Aaron Grew, Michael Black and Brodie Aitken rallied to take the bronze medals in their age group with Kai Newell, Jack MacKinnon and Keir Crawford finishing next. Cambuslang continued their medal winning streak when 7th placed under 20 Gavin Smith led Drew Pollock, Ryan Donnelly and Struan Paton to team silver. Jamie Mackinnon working his way back from an Achilles injury narrowly lost out by 5 seconds on the final team medal spot.
From a field of over 300 senior women runners Moira Stewart emerged as a worthy runner up to the pre race favourite Steph Twell with Morag Miller getting the better of North East of England Cross Country Champion Mhairi MacLennan in the closing stages. Moira is the current Czech Republic Cross Country Champion and will shortly be competing in the World Cross Country Championship in Denmark. She is eligible to compete for Cambuslang as her father Eddie is a former Scottish Cross Country Internationalist and has won the Scottish Masters Cross Country Masters Gold Medal in the over 40, 45, 50, 55 and 60 age groups. Eddie actually met his wife to be in Italy when he was representing Scotland in an International Cross Country Event and Mia was representing the then Czechoslovakia. On marrying Mia Eddie moved to Prague but continues to run for Cambuslang when back in Scotland visiting family. Moira has previously won the Scottish U20 1500 Metres Championship and was a member of Cambuslang's under 20 ladies cross country 2014 silver medallists. Moira is the first Cambuslang senior lady to have won a Scottish Senior Ladies Cross Country medal although Eve MacKinnon and Alex Lamond have previously lifted bronze medals at under 17 and 20 levels. This year for the first time 5 female finishers were required to complete a team. Kirsty O'Brien, Jennifer Reid, Carole Setchell and Lesley McArdle backed up Moira to finish 11th from 24 competing teams.
The final race of the day saw over 700 senior men line up with Cambuslang providing 27 of them. Prior to the event both Cambuslang and Central AC shared the record of 8 consecutive team victories. The question was could Central break the existing record or could Cambuslang, Inverclyde, Shettleston or Corstorphine stop them? In spite of a valiant effort from Cambuslang and Inverclyde the Central sextet was too strong and packed well to claim the record outright of 9 consecutive wins. All credit to Central AC and their coach Dereck Easton. The 6 runners helping Cambuslang to the team silver medals were Ryan Thomson, Stuart Gibson, Kevan Harvey, Iain MacCorquodale, Fraser Stewart and Alasdair Campbell who finished in positions 13 to 34 within the space of exactly one minute. The next 6 to finish would have gained 9th position from 42 finishing teams if B teams were allowed to score. The second sextet comprising of club captain Iain Reid, Ben Hukins, Doug Roberts, Ritchie Carr, Kyle McLellan and Kenny Campbell all finished between 43rd and 84th position. Justin Carter also made the top 100 in 94th spot with Craig Jardine not far away from a top 100 place. Cambuslang runners continued to cross the line in the following order Jamie Reid, Iain McDonald, Eddie Stewart, Brendan Carey, John Paul Murphy, Iain Nicholl, Mick O'Hagan, Alasdair Murray, Dan O'Connell, Scott Hunter, Des Dickson, Willie Fairley and John Kelly.
Many thanks are due to all the Cambuslang coaches, officials, parents and supporters and to Brian Hughes and Colin Feechan who acted as the 2 club volunteer stewards. Finally the Scottish Athletics team and members of the organising club Falkirk Victoria deserve a special mention for their role in staging such a well run championship.
David Cooney
Join Cambuslang Harriers
Interested in joining one of Scotland's premier road and cross country running clubs as a member or a volunteer? We cater for runners of all abilities and offer regular training sessions based from our clubhouse in Cambuslang, we also have regular training on the track at the John Wright Sport Centre in East Kilbride, why not come along and join us?


All Content Copyright © 2007-2023, Cambuslang Harriers I Site design by No Lesser Panda