Cambuslang Harriers Masters Men's Teams 1988 – 2017
This article was prompted by Colin Youngson who has had himself a very distinguished career both as a senior and master athlete on road and country. He asked if I could give an account for the Scottish Veteran Harriers magazine of the continued success of Cambuslang Harriers Master Men's Teams in road and cross country events both in Scotland and in the UK and to suggest why this success has been maintained for almost 3 decades.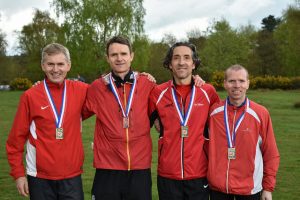 Although the first Scottish Veteran/Masters Cross Country Championship took place in 1972 Cambuslang Harriers did not feature in the M40 medals until taking team bronze in 1988 behind Aberdeen (for whom Colin Youngson won individual gold) and Dumbarton. The Cambuslang quartet on that day was Eddie McIvor, Robert Anderson, David Fairweather and Andy Hughes. A second team bronze medal and 4 silver were gained over the next 7 years. However, in 1996 Cambuslang lost its tag of being the bridesmaid and never the bride when winning the gold award thanks to Charlie McDougall, Archie Jenkins, Frank Hurley and Murray McDonald. The club went on to secure 7 successive team gold medals and from 2003 onwards the Lanarkshire club has only missed out on a team medal on one occasion. Indeed the total medal tally over a 30 year period from 1988 until 2017 reads as 17 gold, 7 silver and 3 bronze medals. During these 3 decades Colin Donnelly and Kerry-Liam Wilson have won 9 medals, Archie Jenkins and Frank Hurley 5 and Frankie Barton and Stevie Wylie 4. Further team success continued with the introduction of a M50 Team Championship in 2011 with Cambuslang having won the team trophy on 7 out of 8 possible occasions. The medal winning trio in 2011 was Frank Hurley, Frankie Barton and Gerry Reid. Eddie Stewart although he was first M50 and 5th overall in the race did not count for the M50 team as he was recorded as 2nd counter in the gold winning M40 team. However, Eddie has collected 4 M50 gold medals since then with C Upson on 3 and 5 athletes on 2 namely Frank Hurley, Frankie Barton, Colin Feechan, Stan MacKenzie and Dave Thom.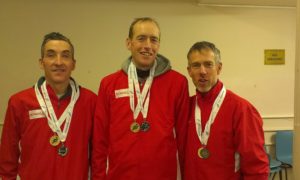 Cambuslang Harriers M40 and 50 teams have enjoyed similar success in the Masters Cross Country Relays first introduced in 1996. Cambuslang finished 2nd in the inaugural event to a strong Metro Aberdeen team including Colin Youngson and Fraser Clyne. However, in the following year the Cambuslang quartet of Frank Hurley, Jim Robertson, Jimmy Quinn and Archie Jenkins were victorious over Clydesdale with the B team of David Fairweather, Murray McDonald, Freddy Connor and Peter Ogden taking bronze position. In the 23 year history of the event Cambuslang has collected 13 gold, 3 silver and 2 bronze medals including 6 consecutive victories between 2011 and 2016. Also in the 6 year lifetime of the M50 relay 4 gold medals and 1 silver have been won by the club. Dave Thom, Colin Feechan and Iain Campbell were the members of the inaugural race. The most frequent medal winners in this category have been Colin Feechan with 3 and Dave Thom and Colin Donnelly both on two.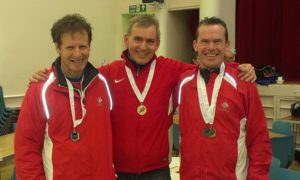 Cambuslang Masters teams have also been very prominent on the Scottish road running scene firstly in the Scottish Veteran Harriers Alloa to Bishopbriggs 8 man relay followed by the 6 man Torrance Relay and then the Scottish Athletics Masters M40 6 man relay introduced in 2005 and the M50 4 man event from 2013. Cambuslang won team gold on the point to point course in 1988 and 89, team silver in 1990 and bronze in 1991 and 92. When the race was moved in 1993 to the hilly roads around Torrance (although termed a flat course by race organiser Danny Wilmoth) for safety reasons Cambuslang continued to excel winning silver in that year followed by 8 successive gold medals up to 20002. No race was held in 2001 due to an outbreak of foot and mouth disease. During that period Charlie McDougall, Archie Jenkins, Frankie Barton, Frank Hurley, Jim Robertson and Ian Williamson proved to be the mainstay of the club's success. From 2005 when the event came under the auspices of Scottish Athletics Cambuslang has lifted 7 gold, 3 silver and 1 bronze with Kerry-Liam Wilson winning 6 gold medals, Jamie Reid, Mick O'Hagan and Greg Hastie 5, and Stevie Wylie and Alan Ramage 3. The M50 squad has won 5 consecutive gold medals with silver in 2018 in the events' 6 year history with Colin Feechan on 5 gold medals, Dave Thom on 3 and Stan MacKenzie, Alick Walkinshaw and Chris Upson on 2.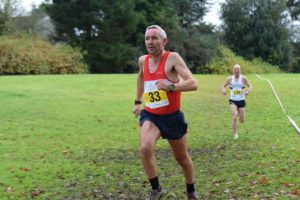 Masters teams from Cambuslang Harriers have also made their presence felt in UK events on country and particularly road. Between 1999 and 2004 in the original O40 8 man road relay event Cambuslang won 3 gold, 2 silver and 1 bronze with the O50 quartet taking 2 bronze medals in 2002 and 03. The club first experienced the special atmosphere of this event at Sutton Coldfield Birmingham in 1989 when the team which included Robert Anderson and David Cooney finishished just outside the top 20. The evening before the race Cambuslang and Morpeth runners mingled in the bar listening to the exploits of Morpeth's Jim Alder, one of the all time greats of Scottish distance running. Two very respectable 5th places in the mid to late 90s demonstrated the progress made by Cambuslang. However, 1999 was the breakthrough year when the team of Barnie Gough, Dave Dymond, Freddy Connor, Frankie Barton, Charlie McDougall, Eddie Stewart, Frank Hurley and Archie Jenkins upset the apple cart to gain a surprise victory from their more fancied English rivals. This win was very special to the club as it was its first UK team championship medal and it did not go down well with a certain English journalist who considered the Cambuslang runners to be "Scottish raiders" in what was a UK event! The second victory in 2003 was perhaps just as special as the club set a course record with all 8 runners being inside 16 minutes for the tough 3 mile circuit. No other club had previously managed this but Ian Williamson, Dave Dymond, Dave Thom, Colin Donnelly, Ross Arbuckle, Frankie Barton, Alex Robertson and Jack Brown managed to do so with Alex setting a club record of 14.55. However, his record was short lived as the following year John Cowan recorded the fastest race time and a new club record of 14.51 while Jack Brown equalled the old club record. Both were on the last 2 legs and ensured another team gold. Robert Gilroy later in 2015 reduced the club record to an impressive 14.47. During that period Frankie Barton and Dave Dymond were ever present with Colin Donnelly making 4 appearances and Archie Jenkins, Frank Hurley, Freddy Connor, Ian Williamson and Dave Thom featuring in 3 of the races. The M50 sextets added to the club's celebrations in 2002 and 2003 by securing 2 bronze medals. Archie Jenkins, Freddy Connor, Barnie Gough and Tom McPake appeared in both races.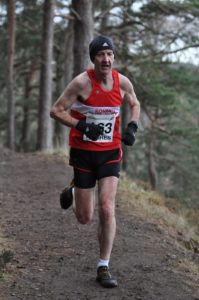 Although a M35-39 age group was introduced in 2008 Cambuslang did not field a team in this new age group until 2010 when the quartet of Greg Hastie, Charlie Thomson, Kerry-Liam Wilson and Jamie Reid was victorious. The following year the M35-39 group was incorporated in to a M35-44 with 8 to count and Cambuslang again took gold thanks to Alan Ramage, Johnny MacNamara, Mick O'Hagan, Robert Gilroy, Greg Hastie, Kerry-Liam Wilson, Iain Campbell and Jamie Reid. Silver medals then followed in 2012, 15 and 16. Jamie Reid appeared in 5 of the teams with Kerry-Liam Wilson and Robert Gilroy in 4 and Greg Hastie and Charlie Thomson in 3. In 2018 the quartet of Chris Upson, Justin Carter, Kerry-Liam Wilson and Stevie Wylie lifted the M45-54 gold medals having worked their way gradually through the field to take the lead on the last leg. Also in 2010 the M50 team of Colin Feechan, Frankie Barton, Archie Jenkins, Dave Thom, Iain Campbell and Frank Hurley added to the earlier gold medal won by their younger 35-39 team mates. There has also been gold, silver and bronze success for the M55 teams in 2015, 2017 and 2018 with Colin Feechan, Paul Thompson and Alick Walkinshaw featuring in two of the three races. Iain Campbell, Frankie Barton and Brian Hughes have been the other 3 medallists in this age group.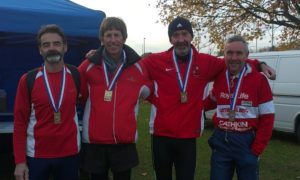 Elsewhere on the road at UK level the M35, M40 and M50 age groups have won team gold over 5K, 10K and ½ Marathon with silver in the 10 mile event. The M40 team achieved 5K gold in 1999 at Annan thanks to Dave Dymond, Freddy Connor and Barnie Gough. There was further golden success at Horwich in 2003 and 05 with individual silver medallist Jack Brown spearheading the 2003 team and individual bronze medallist Charlie Thomson leading home the 2005 squad. The M50 trio of Charlie McDougall, Terry Dolan and David Cooney lifted bronze in 1999 and there was a further M50 bronze in 2005 by courtesy of Archie Jenkins, Frank Hurley and Barnie Gough. More recently in 2013 Dave Thom, Ian Williamson and Colin Feechan added team silver in the over 45 category while M45 team gold was achieved in 2018 by Kerry-Liam Wilson, Stevie Wylie and Justin Carter. Also in 2018 Frank Hurley, Sandy Eaglesham and Barnie Gough took the M65 team gold while Paul Thompson, Brian Hughes and Frankie Barton lifted the M55 team silver medals. At 10K the M50 trio of Freddy Connor, Barnie Gough and Ian Gordon secured gold at Bishop Auckland in 2002 which was followed by a silver medal at Motherwell in 2005. Not surprisingly the M40s took gold at Motherwell with Jack Brown first, Charlie Thomson second and Frankie Barton 5th. Again in 2013 on home soil at Pollock Park Cambuslang recorded a golden 10K double thanks to a one, two from Ben Hukins and Kerry-Liam Wilson with Robert Gilroy in support for the M35 team and the closely packed over 45 trio of Dave Thom, Colin Feechan and Ian Williamson. Earlier in 1998 at Preston M40 10 mile silver medals were won by Frankie Barton, Eddie Stewart and Charlie McDougall. Finally at the half marathon distance at Kirkintilloch in 2016 first and second placed Robert Gilroy and Kerry-Liam Wilson with back up from Justin Carter were crowned the UK M40 masters champions.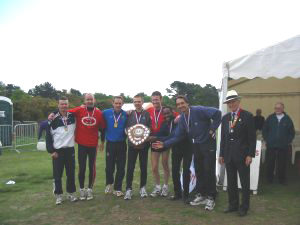 While not attending UK cross country events as regularly as road races due to fixture clashes and the long distances involved the club nevertheless also has an excellent record in that discipline. Cambuslang took advantage of the BMAF Cross Country Championship being held at Irvine in 2003 with Colin Donnelly leading Jack Brown, Dave Dymond and Jimmy Zaple to M40 team gold. The club successfully defended the M40 title the following year at Durham thanks to Alex Robertson, Colin Donnelly, Ross Arbuckle and Dave Dymond. Cambuslang did not contest another Championship until 2014 when the event was staged at Tollcross in Glasgow. Double gold medals were achieved by the M35 and M55 teams with Robert Gilroy, Kerry-Liam Wilson and Jamie Reid representing the younger age group and Colin Feechan, Frankie Barton and Frank Hurley counting for the older group. The 2018 BMAF Cross Country Championships returned to Scotland where on home soil the M55 and M65 teams won the gold medals by courtesy of Colin Donnelly, Alick Walkinshaw and Frankie Barton in the younger age group and Frank Hurley, Barnie Gough and David Cooney in the older group.
The Cambuslang M40 team of Gerry Reid, Dave Dymond, Ronnie Bruce, Colin Donnelly, Frankie Barton and Ross Arbuckle made its debut in a BMAF Cross Country Relay at Darlington in 2001 and scored an emphatic victory after taking the lead on the second leg. The club travelled further south to Croydon the following year with two age group teams. The M40 sextet of David Marshall, Gerry Reid, Colin Donnelly, Ian Williamson, Frankie Barton and Dave Dymond and the M50 quartet of Terry Dolan, Freddy Connor, Archie Jenkins and Barnie Gough picked up silver just losing out on gold on the last leg in their respective races. The Scottish Veteran Harriers hosted the event at Bathgate in 2007 and Cambuslang swept the board in the M35, M40 and M50 events. The M35 representatives were Kerry-Liam Wilson, Greg Hastie, David Rodgers and Stevie Wylie while the M40 runners were Ross Arbuckle, Dave Thom, Benny McLaughlin, Robert Lyon, Gerry Reid and Colin Feechan with Freddy Connor, Archie Jenkins, Frank Hurley and Frankie Barton making up the M50 quartet. The club was not involved in any further relay competitions until 2016 when Frank Hurley, Dave Thom, Paul Thompson and Colin Donnelly won the M55 title at Long Eaton. Unfortunately the date for the BMAF Relay was switched this year to clash with the Scottish Cross Country Senior and Masters Relays and presented the club with a difficult decision to make. It was agreed to contest both events although this was splitting the club's forces. The M55 team consisting of Colin Feechan, Dave Thom, Alick Walkinshaw and Colin Donnelly was given the opportunity to defend its title and was accompanied by a M65 squad of Peter Ogden, Barnie Gough and Frank Hurley. Both teams were among the medals with the younger quartet taking silver and the older trio bronze. Nowadays officials and runners are accustomed to seeing Cambuslang Masters compete in UK events held out with Scotland and they appreciate the club's appearance given the long journeys involved.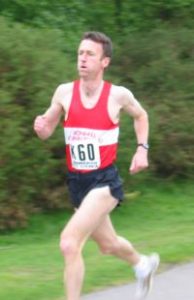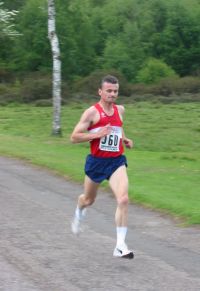 The question of how Cambuslang Harriers Masters Men Section (and indeed the club itself across all the male age groups) has remained so successful for a 30 year period needs to be considered. A variety of factors come into play to explain why a relatively small club with a total membership of no more than 140 athletes has enjoyed such lasting success. Having a number of talented athletes supported by a good core of club runners all sharing a sense of ambition and imbued with a strong club spirit and mindful of club tradition is a very important ingredient. The availability of excellent structured coaching with Mike Johnston at the helm and the positive support and encouragement from committee and club members current and past such as Robert Anderson, Colin Feechan, Owen Reid, Dave Thom, Barnie Gough, David Cooney, Des Yuill, Jim Scarbrough and Ian Gordon are vital too. The maxim of success breeds success holds true for Cambuslang Harriers. The early masters' teams from the late 1980s onwards took inspiration and belief from their younger club mates when the under 17and under 20 teams from the early/mid 1980s and senior teams from 1988 began to regularly strike national gold. Indeed 4 of the senior athletes from the gold winning team of 1988 were later to carry forward their exploits to masters' level – Colin Donnelly, Eddie Stewart, Ross Arbuckle and Charlie Thomson. Undoubtedly the club's growing success at masters' level and its known ambition to compete at UK level attracted other runners to Cambuslang. Dave Dymond who had lived in Exeter and ran for them in the BMAF Road Relay when Cambuslang had also competed asked to join the club for that very reason when he moved shortly afterwards to Largs. Iain Williamson resident in Shetland but never having a team to support him when on the mainland was keen to sample team competition and to join a club which would further his running ambition. Another consideration is the famous or infamous Tuesday night club 8 mile tempo Hampden run where no prisoners were taken was instrumental in raising the fitness and fostering the team spirit of the Cambuslang runners. If Alex Gilmour took his teeth out before the run then everyone knew that the pace would be extra hot. While not quite on the same scale as previously evergreen masters such as Frank Hurley, Dave Thom, Colin Feechan and Paul Thompson along with new M40 and club captain Iain Reid and a group of U20, senior men and women can be found on that Hampden circuit. Finally loyalty from athletes to the club cannot be overlooked. Although Eddie Stewart left Scotland in 1993 for Prague where he still lives he has continued to represent the club whenever he can and shares the impressive record with Bill Stoddart of winning Scottish Masters Titles at M40/45/50/55/60. It is possible that Colin Donnelly who also moved from Glasgow to North Wales for a lengthy period but continued to represent Cambuslang may shortly emulate Eddie's record if he can stay injury free. Colin has so far achieved gold in the M40/45/50/55 age groups.
While every athlete mentioned in the article has played a crucial part in creating and/or sustaining Cambuslang's incredible team success a number of names have appeared more frequently and/or over a lengthy period of time. The reader will be able to identify them.
While this article has mainly focussed on team success it is worth remembering the Cambuslang male masters athletes who have achieved individually at European and or World Level namely Willie Marshall, Kerry-Liam Wilson, Paul Thompson, Colin Donnelly, Archie Jenkins and Jack Brown. On a final note the Cambulang's ladies masters' squad of Jennifer Reid, Bernie O'Neil, Erica Christie and Claire Mennie who won senior team gold in 2017 in the Scottish 10 Mile Road Championship and bronze in the Scottish Masters Road Relay deserve recognition.
David Cooney
Join Cambuslang Harriers
Interested in joining one of Scotland's premier road and cross country running clubs as a member or a volunteer? We cater for runners of all abilities and offer regular training sessions based from our clubhouse in Cambuslang, we also have regular training on the track at the John Wright Sport Centre in East Kilbride, why not come along and join us?


All Content Copyright © 2007-2023, Cambuslang Harriers I Site design by No Lesser Panda