2018 Down By The River 10 and 3k races, will now take place on Sunday 20th May 2018
ENTRIES NOW OPEN LINKS BELOW
10k https://bookitzone.com/dave_thom/SD2FFX​
3k https://bookitzone.com/dave_thom/mD2FFX​
at 11am (10k) and 11:10 (3k)
Race headquarters will again be at
Cambuslang Rugby and Sports Club
Langlea Rd, Cambuslang
G72 8HG
Great opportunity to get your first 10, or 3k PB of the year on a fast flat course
free tea/coffee and food post race in the club house
NEWS 07/03/18: New Date 20th May
NEWS 1/03/18: Race Posponed due to severe weather new date to be fixed
NEWS 14/02/2018: Cambuslang harriers wish to apologise to all athletes: due to a new housing development and utility road works we are forced to alter slightly the 10K. course.
The new course will start and finish on nearby Clydesmill Road and is thought to be slightly flatter and faster.
The new course has now been measured by a Scottish Athletics registered road race measurer.
The 10K course is therefore once again an accurate certified 10K. However, due to the course changes, bonus prize money for a course record can no longer be offered​
Parking, please note that there is no parking near the course start/finish area, and no parking on the BOC service road parallel to Bogleshole Rd. competitors should park at the rugby & sports club, and leave plently of time for the walk/jog down to the course. (If you must take your car please park on Clydesmill Drive in the Industrial Estate)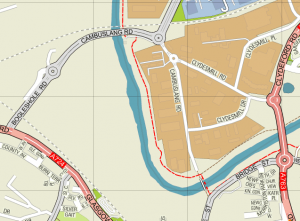 Please check this page from time to time for updates!
Entries so far (as of 3pm on 19th Feb) Down By The River 10k_19-02-2018_15-12-33
10k supported by
3k supported by Barnie Gough Fencing